Mass Audubon Shop
New Online Store is Open!
We're thrilled to announce that our brand-new online store is now live and ready for you to shop! Browse an expanded selection of items perfect for any nature lover, bird enthusiast, or young explorer. Orders are shipped right to your door.
---
News & Updates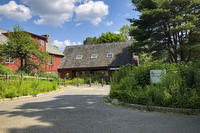 Welcome! Here's an overview of the many ways—both in-person and virtual—that you can shop our selection of nature-inspired gifts, books, and apparel.
More News
Why Buy from the Mass Audubon Shop?
---
Why Buy from Us?
Your purchases support our work to protect the nature of Massachusetts!
The Mass Audubon Shop is part of Mass Audubon, an independent nonprofit organization that works every day to protect the nature of Massachusetts for people and wildlife through conservation, education, and advocacy. By buying from us, you'll be helping Mass Audubon advance its mission of protecting the wildlife and wild lands that we all enjoy.
→ In addition to the Mass Audubon Shop in Lincoln, Mass Audubon also has smaller, individually-managed gift shops at many of our wildlife sanctuaries across the state.