Stony Brook Wildlife Sanctuary
Known for its extensive boardwalk system that goes through forest, fields, and wetlands, Stony Brook offers up-close views of wildlife above and under the water. Located adjacent to the 140-acre Bristol Blake State Reservation and cooperatively managed with the Department of Conservation and Recreation (DCR), this former 18th-century mill site now supports native wildlife.
Location: 108 North Street, Norfolk, MA 02056
Phone: 508-528-3140
Hours: Tuesday–Saturday, 10 am–4 pm; Sunday, 12:30 pm–4 pm; Closed Monday; Trails open daily, dawn to dusk
Tiny Trekkers - spring/summer
Tiny Trekkers
Introduce your little one to a love of nature! Explore new topics each week. Register >
Summer Camp
Summer Camp Registration is Open!
Our day camp offers programs for children ages 4–15. More Information >
Sanctuary News & Events
Special Event October 5, 2019
Come cheer on the (rubber) wood ducks during the most popular event of our Annual Fall Fair. The first duck to cross the finish line wins the Grand Prize!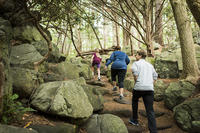 Stony Brook is proud to offer free admission to active-duty U.S. military personnel and their families through Labor Day thanks to the Blue Star Museums program.
More News