News & Events
There's always something new happening at Wellfleet Bay. Read the latest news and check out all of our upcoming programs.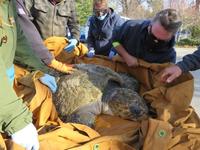 Sea Turtle Stranding Coordinator Karen Dourdeville says despite 2020 being a 900-plus sea turtle rescue season, there are some turtles that have stood out from the rest and for different reasons.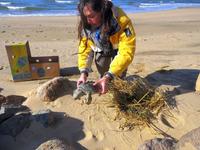 It's sea turtle rescue season on Cape Cod. Here's what to do should you find a cold-stunned sea turtle on the beach.
Subscribe to Wellfleet Bay emails
Read More Blog Posts
December 18, 2020
Despite all the uncertainty and change that 2020 brought, the reliable rhythms of the animal world brought me extra relief. The new year ahead promises a repeat of these simple, natural gifts and they are ours to receive every day. Here is what I look forward to on Cape Cod in the upcoming calendar year: […]
December 17, 2020
This post was contributed by Wellfleet Bay Sea Turtle Stranding Coordinator Karen Dourdeville. Each cold-stunned sea turtle season is different, but 2020 is turning out to be one for the scrapbooks! With 1,000 turtles rescued or recovered from our beaches–our second busiest season ever– there are a few that stand out for me for different […]