News & Events
Special Event February 16, 2019
Join us for a screening of Fox Tales and be treated to intimate views of how Red Foxes live their lives—starting with a look inside a fox den with kits.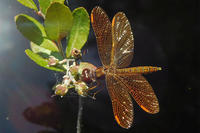 Special Event March 9, 2019
Now in its 24th year, the annual Cape Cod Natural History Conference features speakers from environmental organizations across Cape Cod discussing a wide array of natural history topics.
Special Event July 18, 2019
Make plans to join us for a quintessential Cape Cod summer evening under the stars and help raise critical funding for Wellfleet Bay's conservation and education programs.
Read More Blog Posts
January 20, 2019
While hundreds of cold-stunned sea turtles were being rescued from local bayside beaches this  fall, Outer Cape school children–most of whom live within 15 minutes or less from a bay beach—are getting front row seats for what's become a unique natural phenomenon that occurs practically in their own backyards. In a special curriculum developed by […]
December 19, 2018
Wellfleet Bay has been rescuing sea turtles for more than 30 years and almost every season has its memorable moments. Unfortunately, the 2018 cold-stun season will likely be remembered in large part for the Thanksgiving Day week-end deep freeze that killed scores of turtles, most of which would have been successfully rescued under normal conditions. […]