News & Events
There's always something new happening at Wellfleet Bay. Read the latest news and check out all of our upcoming programs.
Special Event August 16-22, 2021
After such a successful debut last year, our reimagined annual fundraiser—the virtual Wild, Wild Auction—will be back again this August!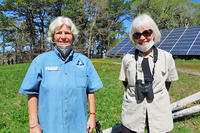 After missing last summer due to the pandemic, our volunteer naturalists are excited to once again be outdoors and engaging with people on the sanctuary's trails.
Doris Countryman, a longtime volunteer who shared her love of birds and nature, left a special legacy to Wellfleet Bay so the place where she spent so much time enjoying nature could continue helping others enjoy it for years to come.
Since COVID-19 upended traditional learning, Mass Audubon educators statewide have worked hard to reinvent our nature-based science programs for schools. The result is a new curriculum that provides maximum flexibility and a connection with the outdoors.
Subscribe to Wellfleet Bay emails
Read More Blog Posts
May 17, 2021
The Eastern Spadefoot Toad gets its name from distinctive protruding cartilage "spades" on its hind feet. This feature helps the animal to dig itself quickly below ground where it spends much of its life, emerging on warm stormy nights to feed and breed in temporary water bodies. Historically widespread in Massachusetts, the spadefoot is now […]
April 20, 2021
For Cape Cod bird lovers, there are many rites of spring; hearing the first buzzy call of a phoebe or witnessing a returning Osprey or Piping Plover. People prepare their hummingbird feeders and clean out nest boxes in the hope they'll eventually be filled with baby birds. At Wellfleet Bay, we recently spotted our first […]