News & Events
Special Event October 25, 2019
Celebrate Halloween by exploring our delightfully spooky pine forest after dark. Along the way, you'll be entertained and enlightened (but not scared) by curious creatures from the natural world!
Special Event November 2, 2019
Join us for the seventeenth year of this free public conference to hear about anticipated changes in striped bass management, how to save Wellfleet's declining horseshoe crabs, and more.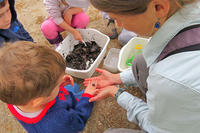 Wellfleet Bay has been providing programs to Cape Cod schools for nearly 40 years. But recently, the sanctuary has expanded its reach into a new, key age group—preschool!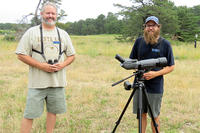 Over the past couple years, we've added some serious muscle to Wellfleet Bay's birding "bench strength" thanks to two accomplished birders that have joined our staff—Jim Sweeney and Joel Wagner.
Melissa Lowe Cestaro—a 25-year veteran of Mass Audubon—has been chosen to succeed Sanctuary Director Bob Prescott, who is retiring this fall after nearly 40 years at the helm.
Subscribe to Wellfleet Bay emails
Read More Blog Posts
September 25, 2019
Box turtle volunteer and researcher Tim O'Brien shares some of his field observations from the past summer. For the last several years I've been tracking some of the sanctuary's eastern box turtles. The turtles have radio tags attached to their top shells which allow me to locate them with a radio receiver and record their […]
August 27, 2019
The following post was contributed by UMass researcher Patty Levasseur. For many years, Wellfleet Bay has worked tirelessly protecting diamondback terrapin nests and releasing hatchlings to help this threatened species. Even so, the health and size of the terrapin population in Wellfleet Bay remains mostly unknown. To answer some of these questions, we began a […]