News & Events
There's always something new happening at Wellfleet Bay. Read the latest news and check out all of our upcoming programs.
Special Event February 15, 2020
Join us for a screening of Snowy Owl: Queen of the North to witness the highs, lows, and challenges a breeding pair of Snowy Owls face while trying to raise their young on Alaska's North Slope.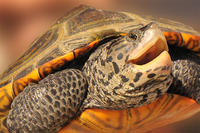 Special Event March 14, 2020
Now in its 25th year, the annual Cape Cod Natural History Conference features speakers from environmental organizations across Cape Cod discussing a wide array of natural history topics.
Subscribe to Wellfleet Bay emails
Read More Blog Posts
January 21, 2020
There's at least one good thing about having had a slow cold-stun stranding period on the Cape—fewer dead sea turtles washed up on our beaches, which means–we hope– that fewer turtles died overall. That's especially important since the turtles that strand here in the fall are federally listed as "critically endangered" or "threatened" species. The […]
December 15, 2019
It's been a popular topic of small talk at the sanctuary this month: what a strange cold-stun sea turtle season it's been and why we've had so (relatively) few turtles. It's important to note—we will likely surpass the 300-turtle mark very soon. That may sound like a lot, but last year we recovered more than […]