News & Events
There's always something new happening at Wellfleet Bay. Read the latest news and check out all of our upcoming programs.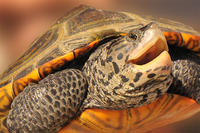 Special Event March 14, 2020
Now in its 25th year, the annual Cape Cod Natural History Conference features speakers from environmental organizations across Cape Cod discussing a wide array of natural history topics.
Subscribe to Wellfleet Bay emails
Read More Blog Posts
December 15, 2019
It's been a popular topic of small talk at the sanctuary this month: what a strange cold-stun sea turtle season it's been and why we've had so (relatively) few turtles. It's important to note—we will likely surpass the 300-turtle mark very soon. That may sound like a lot, but last year we recovered more than […]
December 13, 2019
The following post was contributed by Wellfleet Bay's special programs coordinator, Jim Sweeney. Winter birding on Cape Cod isn't just good, it's exceptional! Early winter weather conditions on Cape Cod can be more like late fall in other parts of the Commonwealth.  Because of this delayed onset of wintry weather, some species that vacate other […]