News & Events
There's always something new happening at Wellfleet Bay. Read the latest news and check out all of our upcoming programs.
Special Event November 2020
We're going digital this year! Join us virtually for the free 18th Annual State of Wellfleet Harbor Conference, which will take place over the course of three Saturdays in November.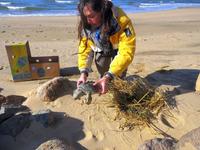 It's sea turtle rescue season on Cape Cod. Here's what to do should you find a cold-stunned sea turtle on the beach.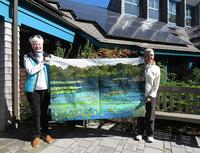 Despite COVID-19 or perhaps because of it, Wellfleet Bay's modified annual fundraising effort this summer has raised as much critical funding for the sanctuary's education and conservation programs as previous Wild, Wild Wellfleet! galas.
Melissa Lowe Cestaro—a 25-year veteran of Mass Audubon—has been chosen to succeed Sanctuary Director Bob Prescott, who has retired after nearly 40 years at the helm.
Subscribe to Wellfleet Bay emails
Read More Blog Posts
October 25, 2020
Now that the days are becoming shorter and nighttime temperatures are beginning to drop, Wellfleet Bay's resident box turtles are preparing for brumation, the reptile version of hibernation. Unlike a woodchuck or a bear, turtles do not fatten up and snooze the winter away in a cozy den. In fact, it's almost the opposite! Last […]
September 19, 2020
With numerous reports of lion's mane and other species of jellyfish in our waters this summer, we were pretty certain endangered leatherback sea turtles would soon follow. Leatherbacks, the world's largest sea turtle, feed almost exclusively on jellies. And by late summer some of that feeding was occurring in Vineyard Sound, one of the most […]