News & Events
A mass migration of hundreds of thousands of amphibians takes place every year in early spring in Massachusetts. People from all over the Northeast will travel to watch this phenomenon known as "Big Night."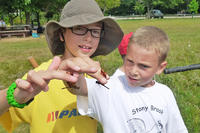 Registration is now open for Stony Brook Day Camp in Norfolk! We're looking forward to sunshine, summertime, and days filled with adventure in the great outdoors.
Subscribe to Stony Brook emails
Read More Blog Posts
February 26, 2019
Stony Brook regular Marian Pierre-Louis was enjoying a walk on the Pond Loop Trail in mid-January when she spotted something unusual hanging in the trees.