News & Events
Special Event October 5, 2019
Enjoy a full day of family-friendly games, crafts, and food—and get ready to cheer for your rubber ducks as they race to the finish in the Annual Wood Duck Derby!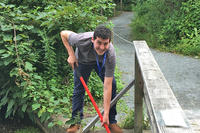 Get to know two of the people who've made a real impact at the sanctuary this summer—intern Hannah Greene and volunteer Erich Wilmot!
Subscribe to Stony Brook emails
Read More Blog Posts
August 21, 2019
A group of young Stony Brook campers took it upon themselves to write a letter and create drawings to thank MA Attorney General Maura Healey for her recent defense of the Endangered Species Act (ESA).