News & Events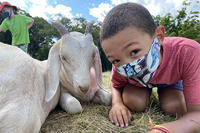 Registration opens for Drumlin Farm Camp in Lincoln on January 11, 2022! We're looking forward to sunshine, summertime, and days filled with adventure in the great outdoors.
Last year will be remembered for generations as a year of unexpected and enormous challenges as the world grappled with the effects of a global pandemic. At the same time, 2020 provided opportunities for new insights about focusing on what's really important.
See the amazing work accomplished by the Youth Leaders for Climate Justice (YLCJ) as part of their 2019-2020 season! This video showcase is a culmination of the community action work led by these committed and relentless high school groups from the Boston and MetroWest areas.
Subscribe to Drumlin Farm emails