News & Events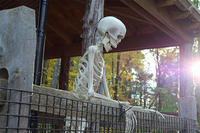 Special Event October 25 & 26, 2019
Put on your favorite costume, grab a flashlight, and join us for the silliest, spookiest, and most family-friendly Halloween tradition!
Special Event November 29, 2019
Reclaim the day after Thanksgiving for the outdoors, away from the malls, at this annual arts festival! Enjoy live music, local art, storytelling, family-friendly nature crafts, and more.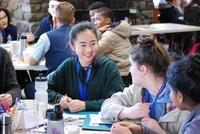 Students are invited to take part in the next Youth Climate Summit on November 23! This ongoing collaboration engages local high school teams to work on climate justice projects that help their local and global communities.
Boston magazine's annual Best of Boston® feature has honored three Mass Audubon Wildlife sanctuaries for 2019—including Drumlin Farm!
Ever try to get your kids to eat carrots? It's not always easy. But for students in grades K–5 at Somerville public schools, eating carrots is part of the after school curriculum thanks to a partnership with Drumlin Farm.
Subscribe to Drumlin Farm emails
Read More Blog Posts
October 2, 2019
For those of us lucky enough to be at Moon Over Drumlin this past Saturday, we were treated to an event thoughtfully orchestrated in every detail. The tent looked beautiful, and every dish the chefs created amplified the love and attention that goes into raising Drumlin's livestock and crops. I felt especially grateful to have […]