News & Events
Regional News
Don't miss a thing! Find out what's going on at Mass Audubon's wildlife sanctuaries in regions across the state.
---
From the President's Office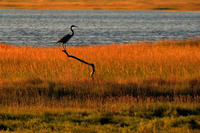 November 10, 2020
For almost 125 years, Mass Audubon has been the leading force for conservation in Massachusetts. If 2020 has taught us anything, it's how much we all need nature—and how critical it is that we preserve and protect it.
August 14, 2020
As part of our commitment to diversity, equity, and inclusion, we, along with National Audubon Society and other independent Audubon Societies, are embarking on our own historical reckoning starting with taking a closer look at our namesake, John James Audubon.
August 12, 2020
A federal court ruled that the legal basis for the rollback of the century-old Migratory Bird Treaty Act is inconsistent with the intent and language of the law.
More News
Press Releases
November 23, 2020
Mass Audubon is committed to the preservation of the Bear Hole landscape in West Springfield and Holyoke, to permanently protect the 1,500-acre open space and ensure it is open to the public in perpetuity. The statewide conservation organization is facing an end-of year deadline to reach its $450,000 fundraising goal, with $342,000 raised so far.
November 17, 2020
Mass Audubon's Berkshire wildlife sanctuaries will partner with a pair of community health centers to help share with their patients the healthful benefits of nature and the outdoors. The wildlife sanctuaries will work with East Mountain Medical and MACONY Pediatrics, both located in Great Barrington, to support physical and mental health through connection with the natural world and guided activities that promote well-being, stress reduction, exercise, and a sense of community.
Photo Contest
Our annual photo contest invites you to submit your best images of wildlife, landscapes, and people enjoying the nature of Massachusetts.
Blogs
See the latest posts from Mass Audubon's blogs, which cover everything from sanctuary news to bird conservation to advocacy and everything in between.
Publications
From our quarterly Explore magazine to special reports like Losing Ground and State of the Birds, we have dozens of publications to keep you informed and engaged in our work to protect the nature of Massachusetts.
Subscribe to eNews
There are many ways to keep up with what's going on at Mass Audubon! Get the latest from your local sanctuary, stay updated on statewide conservation initiatives, or enjoy the best of both with our bi-monthly Explorations.