News & Events
Mass Audubon has been protecting the nature of Massachusetts since 1896. We're planning lots of fun ways to honor our 125th anniversary this year. You're invited to join the fun all throughout 2021! Celebrate with us >
Regional News
Don't miss a thing! Find out what's going on at Mass Audubon's wildlife sanctuaries in regions across the state.
---
From the President's Office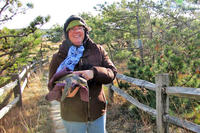 March 18, 2021
With nearly 40,000 acres of land that we protect and steward and a network of 62 wildlife sanctuaries open to the public, it would be literally impossible to keep up without our 14,000 volunteers.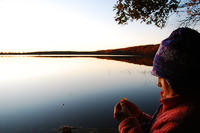 December 11, 2020
To kick off the new year and celebrate 125 years of protecting the nature of Massachusetts, we are focusing on making even more of the natural areas we manage available for you to enjoy.
More News
Press Releases
April 7, 2021
Educators from the Falmouth, Boston, and Agawam school systems have been named 2021 Conservation Teachers of the Year by Mass Audubon, the state's largest nature conservation organization.
They are Christine Brothers, a Falmouth High School teacher; Georgette Copeland, who teaches kindergarten and first grade at the James J. Chittick Elementary School in Boston's Hyde Park neighborhood; and Tammy Rumplik, a teacher at the James Clark and Clifford Granger elementary schools in Agawam.
March 26, 2021
With Governor Baker's signature on the climate Roadmap bill today, Massachusetts becomes one of a handful of jurisdictions in the world to place legal limits on climate pollution at levels consistent with the best climate science.Through the passage of this landmark bill, An Act Creating a Next-Generation Roadmap for Massachusetts Climate Policy, the state commits to reducing greenhouse gas emissions by 50% below 1990 levels by 2030, 75% by 2040, and at least 85% by 2050.
Photo Contest
Our annual photo contest invites you to submit your best images of wildlife, landscapes, and people enjoying the nature of Massachusetts.
Blogs
See the latest posts from Mass Audubon's blogs, which cover everything from sanctuary news to bird conservation to advocacy and everything in between.
Publications
From our quarterly Explore magazine to special reports like Losing Ground and State of the Birds, we have dozens of publications to keep you informed and engaged in our work to protect the nature of Massachusetts.
Subscribe to eNews
There are many ways to keep up with what's going on at Mass Audubon! Get the latest from your local sanctuary, stay updated on statewide conservation initiatives, or enjoy the best of both with our bi-monthly Explorations.