News & Events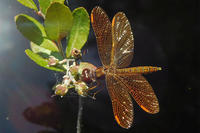 Special Event March 9, 2019
Now in its 24th year, the annual Cape Cod Natural History Conference features speakers from environmental organizations across Cape Cod discussing a wide array of natural history topics.
Special Event March 16, 2019
Join us for a screening of The Last Bay Scallop to learn how the communities on Nanctucket are racing to restore water quality in the harbor before it's too late to save the last commercial bay scallop fishery on the East Coast.
Special Event July 18, 2019
Make plans to join us for a quintessential Cape Cod summer evening under the stars and help raise critical funding for Wellfleet Bay's conservation and education programs.
Read More Blog Posts
February 21, 2019
We often say that the sea turtle necropsies we conduct each Saturday in winter at the Woods Hole Oceanographic Institution are not for everyone. It's a long day, there's a lot of standing, the lab is chilly, and there are dozens of dead turtles being cut open. But those conditions have not discouraged sea turtle […]
February 21, 2019
This post was contributed by Wellfleet Bay sea turtle research associate Karen Dourdeville. Recently, I was fortunate to be able to attend the International Sea Turtle Society Symposium, in Charleston, SC, one of the largest sea turtle meetings in the world. The annual symposium is truly an international event, and it's exciting and invigorating to […]