News & Events
Plan for a summer of delicious meals by joining Moose Hill's CSA program! Get freshly-harvested, sustainably-grown produce from late May through September. Register now to save $50!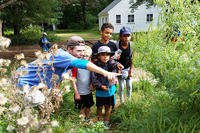 Weekly sessions at Moose Hill Nature Camp in Sharon have campers discovering the sanctuary, getting dirty in farm fields, experimenting with science, dabbling in art, and venturing to new places. Registration now open for summer 2020!
Spend some with your little one every Friday afternoon creating art, participating in STEAM activities, listening to stories, and exploring the outdoors. Each week has a different theme!
Read More Blog Posts
April 1, 2020
This year, we were not able to share one of our most favorite seasons, the sugaring season with you. While we ran a few programs in early March, our beloved Maple Sugaring Weekends were cancelled – we missed seeing you all out on the trails learning about the history of sugaring and tasting that oh, […]