News & Events
Special Event 2023-01-28
Celebrate the joy of winter birding with our ever-popular annual event! Each January, birding teams of all ages go head-to-head in a 12-hour race to spot as many species as they can.
Special Event February 14–18, 2023
Deep winter is on its way—and with it, the Bald Eagles will return to the Merrimack Valley. This year's festival will include both online and in-person programs to celebrate these special winter residents of the greater Newburyport area.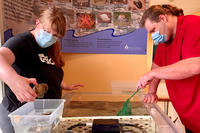 Joppa Flats welcomed two new animal husbandry interns this fall! These internships provide young adults of all ability levels the opportunity to learn practical, hands-on skills for future careers.
The results are in for the first-ever Semi-Superbowl of Birding, which took place on Saturday, January 30, 2021! Due to COVID-19 pandemic restrictions, we had to modify the scope and rules of this year's contest.
Subscribe to Joppa Flats emails