News & Events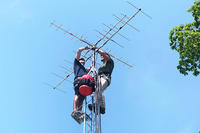 Ipswich River has joined the Motus Wildlife Tracking System! By participating in this exciting collaborative research network, scientists and educators across New England will be able to better understand the ecology and conservation of migratory birds.
Exciting habitat restoration work is happening at Ipswich River! The project will create a large, contiguous field of flowering plants and native grasses and shrubs that will provide highly beneficial habitat for pollinators and birds alike.
At Ipswich River Nature Day Camp, campers ages 5–11 have a unique opportunity to learn about nature, meet new friends, and have fun outside at our 1,955-acre wildlife sanctuary in Topsfield. Registration is now open!
Subscribe to Ipswich River emails