News & Events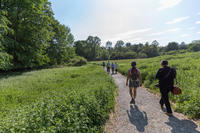 The next time you're looking to get outdoors, stop by Broadmoor to check out the new trail improvements and learn all about what's on the horizon for our innovating organization.
Last year will be remembered for generations as a year of unexpected and enormous challenges as the world grappled with the effects of a global pandemic. At the same time, 2020 provided opportunities for new insights about focusing on what's really important.
Earlier this month, the intrepid trail team at Broadmoor completed a reroute and reopened the much loved Hemlock Trail. This beautiful trail winds through oak-pine woods down to a stream bordered by hemlocks, flowing into the Wildlife Pond.
Subscribe to Broadmoor emails