News & Events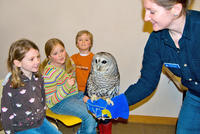 Special Event February 1, 2020
Come explore the wonders of owls with friends and family! Go on a full moon owl prowl, or join us for an up-close and personal view of some of our local owl species.
Special Event February 12, 2020
Join Broadmoor at Jack's Abby Brewery in Framingham for food, locally-brewed beer, and thought-provoking discussions about nature with various experts. (February 12: "Native Bees of Massachusetts")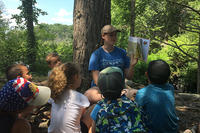 Registration is now open for Broadmoor Nature Camp in Natick! We're looking forward to sunshine, summertime, and days filled with adventure in the great outdoors.
Subscribe to Broadmoor emails
Read More Blog Posts
January 17, 2020
The mill pond is partially frozen. The sun angle through the trees highlights the line between ice and water. The best place to find birds is around the feeders or nearby bushes with berries.