News & Events
Join renowned Concord naturalist Peter Alden and Mass Audubon staff for a tour of the diverse plant and animal wildlife of Brewster's Woods!
Trail hikers with a watchful eye are in for a surprise at Brewster's Woods Wildlife Sanctuary in Concord – a mysterious door hidden between two tall pines on the edge of the meadow.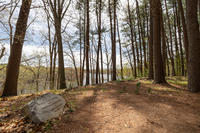 Mass Audubon takes our responsibility to steward and share this land very seriously, and have embarked on a multi-year process to understand the ecological systems, mission-oriented opportunities, and community benefits that the property offers.
Subscribe to Metro West emails