News & Events
There's always something new happening at the Boston Nature Center. Read the latest news and check out all of our upcoming programs.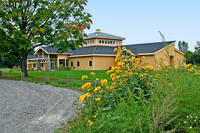 Get the latest updates regarding the proposed real estate development near the BNC's boundary, on 10 acres of the former Boston State Hospital site.
BNC is teaming up with Moose Hill Wildlife Sanctuary to offer Mass Audubon members shares of fresh, organic vegetables from late May through early October. Register before March 1 to save $50!
We have the cure for cabin fever—snowshoeing at BNC! Bring your own snowshoes, or rent a pair from us, and explore the great outdoors during a beautiful season.