News & Events
Originally constructed in 1960 as one of Trailside's very first exhibits, it's time to improve the otter pool to meet modern standards while enhancing the educational experience.
We're not 100% sure what got David hooked on birds. We think it started with airplanes—an early enthusiasm. Then in kindergarten, his wonderful teacher Jeanette Reynolds did a unit on birds. Each kid had to make a bird out of paper—David's was a Cedar Waxwing.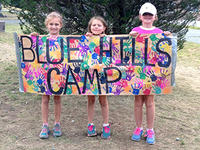 Registration is now open for Blue Hills Nature Day Camp in Milton! We're looking forward to sunshine, summertime, and days filled with adventure in the great outdoors.
Subscribe to Trailside emails