Butterfly Atlas Species Accounts
Butterfly Atlas data collected from 1986-1990
Eastern Pine Elfin

---

Callophrys niphon
Named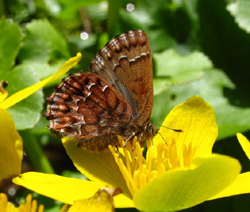 Identification
Wingspan: 3/4-1 1/4". The boldly patterned hindwing below, with several offset blackish bands crossing the veins, serves to separate this from most other Massachusetts elfins, which are more plainly patterned beneath. The exception is the very rare and local Bog Elfin (which see for distinctions).
Distribution
Central Alberta to central Manitoba, southeast to the Great Lakes and east to Nova Scotia; south discontinuously through the United States, east of Great Plains, to eastern Texas and northern Florida. Absent from most of Gulf coast. In New England, absent from northern Maine; otherwise, occurs throughout, more commonly in southern districts. Occupies all elevations (including peak of Mount Madison at 5381' taken by Scudder).
Status in Massachusetts
The Eastern Pine Elfin is fairly common to common statewide, although it was not found on the major islands of Martha's Vineyard and Nantucket during the Atlas project. Historically, the species has been recorded uncommonly on Nantucket, and only once on Martha's Vineyard (Kimball and Jones, 1943), but otherwise was (fide Scudder, 1889) and continues to be widespread. Commonly found in small groups in appropriate habitat. Maximum: 30- 35, North Andover (Essex Co.), 8 May 1988.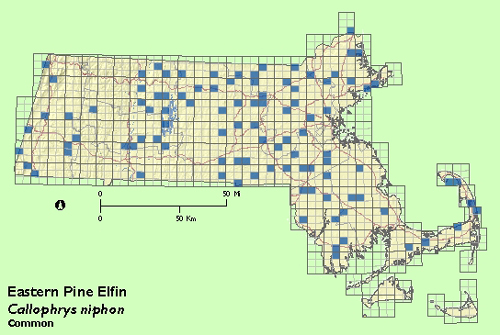 Flight Period in Massachusetts
One flight, with adults emerging over an extended period in spring. Typically found from early May to mid June. Extreme Dates: 13 April 1977, Medford (Middlesex Co.), R. Robbins and 28 June 1987, Sheffield (Berkshire Co.), E. Dunbar.
Larval Food Plants
Scott (1986) lists all three indigenous Massachusetts pines (Pitch, Red, and White) among the species' larval host plants. Some authorities list only "hard" pines (not "soft" White Pine) as host plants. Also utilizes ornamental pines (Pyle, 1981).
Adult Food sources
Various spring flowering species, especially Bearberry and Low bush Blueberry. Scudder listed a correspondent who always found the species at Wild Lupine near Springfield. Fresh males sip moisture at wet ground. There were almost four times as many nectaring sources (19) found for this species than all other Elfin species combined (including wildflowers, shrubs, and trees).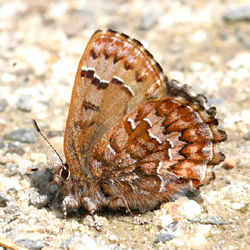 Habitat
Open pine and pine/oak woods; nearby dirt road and powerline clearings with heath and scrub growth.
Life Cycle
EGG: Pale green, becoming lighter with maturity; turban shaped. OVIPOSITION: Eggs laid singly on new growth of host plant. LARVA: Translucent green, with lengthwise white striping; head brown. CHRYSALIS: Dark brown and mottled. OVERWINTERING STAGE: Chrysalis
Adults emerge with the first warmth of spring; during exceptionally mild springs they can be seen as early as mid April. These butterflies have a staggered emergence, and fresh specimens take wing for several weeks. Males are most active during the afternoon hours, when courtship activities likely take place. They "perch" and interact on top of sunlit pines up to 20m above the ground." (Opler and Krizek 1984). Mated females search out small, young pines as ovipositing sites. The larvae blend in remarkably well with their pine needle surroundings.
Eastern Pine Elfins are readily approachable as they perch, feed, and sun bask, often close to or on the ground. Flights are typically slow and cover fairly short distances.
Account Author
Additional Information