Butterfly Atlas Species Accounts
Butterfly Atlas data collected from 1986-1990
Ocola Skipper

---

Panoquina ocola
Named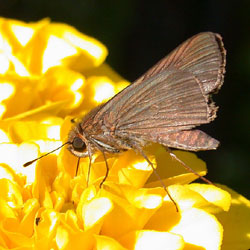 Identification
Wingspan: 1 1/4 - 1 3/8". A rather plain, medium-sized skipper with elongated forewings. Known previously as "long-winged skipper," this uniformly tan to yellowish-brown species is best recognized by the length of the rather pointed forewings that extent noticeably beyond the trailing edges of the hindwings in the closed wing position. Note also several glassy marks on the upper surface of the forewing, the largest being similar in shape to an arrowhead. Less obvious is the contrasting darker outer third of the hindwing below.
Distribution
Resident of the Gulf Coast from Texas to Florida and northward to eastern South Carolina. Known for its mass emigrations, this species has been reported northward from the southern Great Lakes region to southern New England.
Status in Massachusetts
Vagrant. One historical record from Milton 8 September 1912, H.H. Newcomb (Farquhar, 1934) and 28 September 1994, Wellesley (Norfolk Co.), R. Forster. The only other records for New England are 2 collected in Providence, Rhode Island on 8 and 17 September also in 1912. Recently this skipper has shown up along the southern New Jersey coast and northward to the New York City area. Because of its predilection to wander, this vagrant is to be looked for in September and October.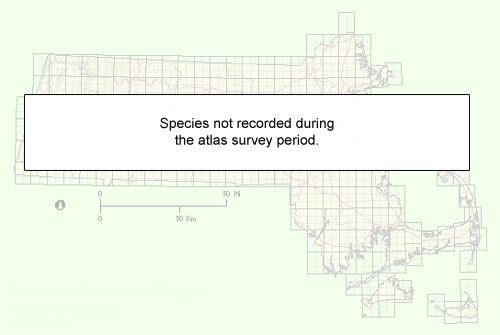 Flight Period in Massachusetts
Flies year-round in Florida with more restricted flight periods to the north. Normally occurs northward along the mid-Atlantic region to New York in late summer and early fall.
Larval Food Plants
Grasses, including cultivated rice in Louisiana and sugar cane and Hymenachne amplexicaule in the West Indies (Howe, 1975).
Adult Food sources
These butterflies visit a variety of nectar sources including lantana, shepherd's needle, milkweeds, and sedum. The 1994 specimen  was on Aster sp.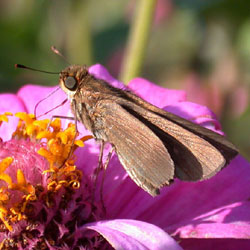 Habitat
Visits a variety of open, often disturbed areas including wasteplaces, fields, urban lots, and flower gardens.
Life Cycle
Information for this species in Massachusetts is currently unavailable.
Additional Information