Butterfly Atlas Species Accounts
Butterfly Atlas data collected from 1986-1990
Banded Hairstreak

---

Satyrium calanus
Named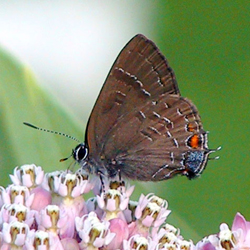 Identification
Wingspan: 1-1 1/4". Identification of Satyrium hairstreaks occurring in Massachusetts is potentially confusing. Banded Hairstreak is most similar to the rare Hickory Hairstreak (S. caryaevorum) and candidates for possible confusion should be checked carefully against the characters outlined in the Hickory Hairstreak account. Separating Banded Hairstreak from the more common and widespread Edwards' (S. edwardsii) and Striped (S. calanus) hairstreaks is the usual problem in sorting out this genus. Of these three butterflies, Banded is the only one lacking a red cap on the large blue lunule on the hindwing below. Also below, Banded Hairstreak shows a mid wing band of loosely formed white rimmed markings with those on the forewing forming an unbroken series of rectangular spots; similar markings on Edwards' Hairstreak are normally broken into distinct and separate ovoid spots. The third species, Striped Hairstreak, may appear similar to Banded but always has a "busier" look to the underwings created by its relatively more numerous and disjointed bands.
Distribution
New Mexico, Utah, and Colorado east through central plains states to the Eastern United States. South to central Texas, the Gulf states and central Florida. Throughout New England excepting northern Maine.
Status in Massachusetts
Atlas workers found Banded Hairstreak to be widely distributed and fairly common throughout the state. Gaps in the record for Banded Hairstreak are apparent in portions of western and southeastern Massachusetts. Maxima: 1100, 8-11 July 1992, Foxboro (Norfolk Co.). Hairstreaks are apparently subject to major, local irruptions or annual fluctuations. For example, in Foxboro during the 4th of July Count, 1992, 3575 were counted, whereas during the same count in Concord, only 2 were recorded. On the 1992 Foxboro 4th of July Count, single locality counts included: 1100 Foxboro, 700 Wrentham, 500 Foxboro, 360 Wrentham, 220 Mansfield, 150 Easton, and 128 Easton. However, in 1993, the Foxboro 4th of July Count had only 17 Banded Hairstreaks.
Flight Period in Massachusetts
A single flight. Extreme dates: 9 May 1986, Holyoke (Hampshire Co.), T. Tyning and 20 August 1992, Foxboro (Norfolk Co.), B. Cassie.
Larval Food Plants
Oaks including Chestnut Oak (Quercus prinus), White Oak (Q. alba), and Northern Red Oak (Q. rubra), American Chestnut (Castanea dentata), walnuts (Juglans spp.), and hickories (Carya spp.).
Adult Food sources
Meadowsweet, milkweeds and Smooth Sumac are highly attractive, among the 17 species of flowers noted during the Atlas period.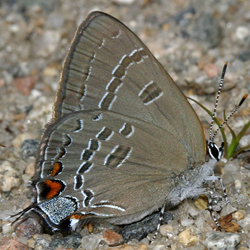 Habitat
Woodland openings and edges, fields, and meadows.
Life Cycle
EGG: Pale green; log shaped with numerous protruburances. OVIPOSITION: Eggs laid on woody twigs of host. LARVA: Grass green with dark and light stripes and dorsal triangular markings. CHRYSALIS: Green or brown; ovoid. OVERWINTERING STAGE: Egg. During July, male Banded Hairstreaks are often observed darting out from a favored perch as they interact with other male Banded Hairstreaks. This attention getting behavior may be the reason for Scudder's observation that approximately 75% of this species collected "at large" were males.
Account Author
Additional Information