Butterfly Atlas Species Accounts
Butterfly Atlas data collected from 1986-1990
Arctic Skipper

---

Carterocephalus palaemon
Named
Identification
Wingspan: 3/4 to 1 and 1/4". The strikingly marked Arctic Skipper is readily recognized by its small size and large yellowish to silvery spots on the tawny orange background of the hindwing below. The hindwing below gives this butterfly the look of a fritillary, albeit in miniature. The upper wing surfaces of the Arctic Skipper are dark brown or black with numerous large orange marks; the forewing below is orange with dark spotting.
Distribution
Northern regions of Eurasia and North America; in the New World from central Alaska east to Nova Scotia and south to central California, northern Minnesota and Michigan, and Pennsylvania. Scudder's (1889) records indicate the New England range of this species as being confined to New Hampshire (the White Mountains) and Maine. Presently, however, the Arctic Skipper is found throughout northern and central New England and south to central Massachusetts and perhaps northwestern Connecticut.
Status in Massachusetts
Uncommon and local, normally found in scattered colonies. Arctic Skippers were found from western Massachusetts east to Essex County. This is apparently the southern limit of this butterfly's distribution and it is absent from the entire southeastern region of the state as well as Cape Cape and the islands. Maximum: 11 on 10 June 1989, Harvard (Worcester Co.).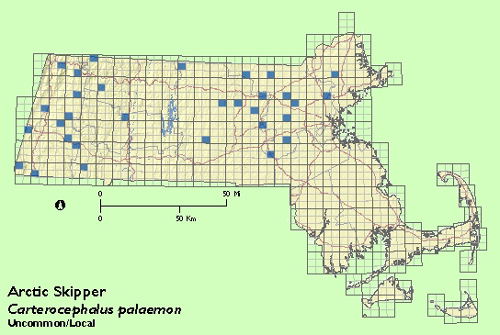 Flight Period in Massachusetts
One flight: late May to mid-June with a peak in the second week of June. Extreme dates during the Atlas period: 27 May 1986, Sudbury (Middlesex Co.), Walton and 26 June 1988, Otis (Berkshire Co.), E. Dunbar.
Larval Food Plants
A variety of grasses are recorded as hostplants including species of Calamagrostis and Panicum.
Adult Food sources
Found nectaring on blackberry blossoms and Wild Geranium by atlas workers.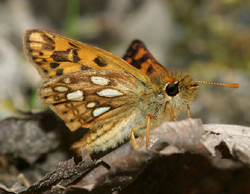 Habitat
The Arctic Skipper is normally found in well lit grassy areas near wooded habitats; typical locations include grass-lined forest paths, and glades.
Life Cycle
EGG: Pale green; dome-shaped. OVIPOSITION: Eggs laid on grasses. LARVA: Cream colored or pale green with a pair of dark green and whitish or yellow stripes, and dark spotting below. PUPATION: Unrecorded? CHRYSALIS: With horn-shaped devise at head. OVERWINTERING STAGE: Larva.
Adults regularly perch on grasses and often fly close to the ground. The Arctic Skipper is notable in Massachusetts as it is primarily a northern species found in the Canadian life zone. It is the only native Massachusetts skipper that also occurs in Eurasia.
Account Author
Additional Information