News & Events
Pleasant Valley is celebrating 90 years of conservation in the Berkshires! We're planning a wide variety of fun events and programs in honor of our anniversary, all of which will be open to the public and people of all ages and abilities. Next event is September 22!
After being absent in Massachusetts for more than 200 years, three beavers were reintroduced to Pleasant Valley in 1932. They quickly got to work creating the dams and ponds you see today. Get to know beavers—nature's wetland architects!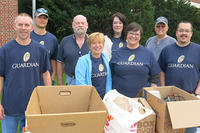 We are proud to call Guardian Life Insurance a Summit Level Community Partner. By participating in this innovative program, Guardian provides many great benefits to its staff as well as vital support for Mass Audubon's ongoing efforts to protect wildlife and wild lands.
Subscribe to Berkshire Sanctuaries emails