Great Neck Wildlife Sanctuary
Nearly all of this property was designated a priority habitat of state-listed rare species, which is why Mass Audubon collaborated with public and private conservation organizations, as well as private landowners, to protect and manage this sanctuary. Wandering through pine forest on old carriage roads and deer paths, you may encounter a roosting Great Horned Owl or a wading heron at the marsh edge.
School & Group Programs
Programs for Groups
Great Neck offers programs for schools, scout troops, organizations, adults, and families. Come to the sanctuary, or we'll come to you! Learn more >
Explore the Trails
Explore the Trails
Walk or hike 4 miles of trails that wander through pine forest on old carriage roads. Try looking for Great Horned Owls along the way! See the map >
Sanctuary News & Events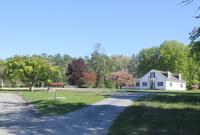 A lot has happened since Mass Audubon acquired the former Sacred Hearts property in summer 2019! We've made great progress in restoring these 110 acres to their natural, wild state.
More News