Canoe Meadows Wildlife Sanctuary

Located just one mile from the center of Pittsfield, Canoe Meadows brings wilderness to Berkshire County's largest city, attracting warblers, turtles, ospreys, otters, and the occasional bear at different times of year. Gentle, flat trails wind through the sanctuary's scenic woods, fields, and wetlands, and along the edge of the Housatonic River.
Community Garden
Community Garden
We've been welcoming organic green thumbs to our 4.5-acre Community Garden for more than 30 years. Get involved >
Explore Our Trails
Explore Our Trails
Discover 3 miles of well-marked walking trails, including two loops. See trail map >
Sanctuary News & Events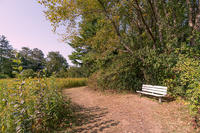 The benefits of nature offered at Mass Audubon's wildlife sanctuaries will now be directly available to patients of three Berkshire health care providers: MACONY Pediatrics of Pittsfield, Volunteers in Medicine Berkshires, and Community Health Programs.
More News