Brewster's Woods Wildlife Sanctuary

Brewster's Woods Wildlife Sanctuary is a 130-acre property located along the banks of the Concord River that was formerly part of the country homestead of William Brewster, an early leader in American ornithology and the first President of Mass Audubon.
Location: Balls Hill Road, Concord, MA
Hours: Trails open daily, dawn to dusk (limited parking)
Trails
Hit the Trails!
Explore 1.6 miles of trails through woodlands, fields, and along the Concord River. Details & map >
Online Programs - Promo for All Sancs
Online Programs
Explore nature with us online, from summer night sounds to annual migrations. Coming up next >
Sanctuary News & Events
Join renowned Concord naturalist Peter Alden and Mass Audubon staff for a tour of the diverse plant and animal wildlife of Brewster's Woods!
Trail hikers with a watchful eye are in for a surprise at Brewster's Woods Wildlife Sanctuary in Concord – a mysterious door hidden between two tall pines on the edge of the meadow.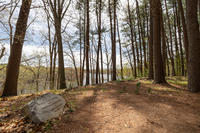 Mass Audubon takes our responsibility to steward and share this land very seriously, and have embarked on a multi-year process to understand the ecological systems, mission-oriented opportunities, and community benefits that the property offers.
More News