American Bittern
---
Botaurus lentiginosus
Local and strongly declining

Conservation action urgent

Endangered Species
"But the yellow bittern, my heartsome namesake / With my looks and locks, he's the one I mourn." – Cathal Buí Mac Gíolla Ghuna, translated by Seamus Heaney, "The Yellow Bittern"
The unmistakable pumping call of courting American Bitterns once echoed over many marshes and wet meadows in Massachusetts. These oft-heard (if not oft-seen) herons pass their time standing patiently amongst the reeds, waiting for prey to swim within reach of their daggerlike bills. Today, however, those marshes and meadows are not nearly so numerous as they once were. As this habitat disappears, the American Bittern appears to be following suit.
Historic Status
Secretiveness has its advantages. The American Bittern has always loved its quiet haunts, places where people have had little reason to tread, in bogs, fens, and marshes. At times, the bittern's behavior has proven to be its downfall. In the first volume of his Birds of Massachusetts and Other New England States, Forbush recounts how the odd sounds made by the hermitlike bird have occasionally caused passersby to glean evil intentions, leading a hundred men on a hunt to take it out (Forbush 1925). Still others, including Henry David Thoreau, considered the American Bittern the "genius of the bog" (Forbush 1925). During the first decade of the twentieth century, when Arthur Cleveland Bent was compiling his Life Histories of North American Marsh Birds, American Bitterns regularly bred in the Boston area and on Cape Cod. Depredations against wetlands, such as the filling of cattail marshes around the city, destroyed the bittern's breeding habitat. Even though the return of the beaver in the 1920s and 1930s offered new possibilities in the western part of the state, the ever-expanding push of suburbia from the middle of the twentieth century continued to adversely affect wetlands, and with them the American Bittern.
Atlas 1 Distribution
Though absent from the high Taconic Mountains, bitterns were found skulking amongst the reeds in almost a quarter of all Marble Valleys blocks during Atlas 1. The nearby Lower Berkshire Hills had the highest proportion of breeding American Bitterns in the Commonwealth, with 29% block occupancy. Otherwise, American Bitterns were present but scarce in the western part of the state. Even the moist lowlands of the Connecticut River Valley supported just 6 occupied blocks, possibly due to the pernicious effects of agriculture on local water systems. Bitterns were more commonly encountered in the Lower Worcester Plateau than in the Worcester Plateau and were mostly found in sizable marshlands to the east, such as Great Meadows in Concord and the extensive salt and brackish marshes of eastern Essex County in the Coastal Plains.
Atlas 2 Distribution and Change
The loss in Massachusetts of extensive cattail marshes since the 1960s has driven the American Bittern increasingly close to the edge of extirpation from the Commonwealth. Even though the species has expanded westward, with gains on the Worcester Plateau, in the Berkshire Highlands, and the Berkshire Transition, these victories cannot match the species' marked retreat from its former breeding strongholds.
Atlas 1 Map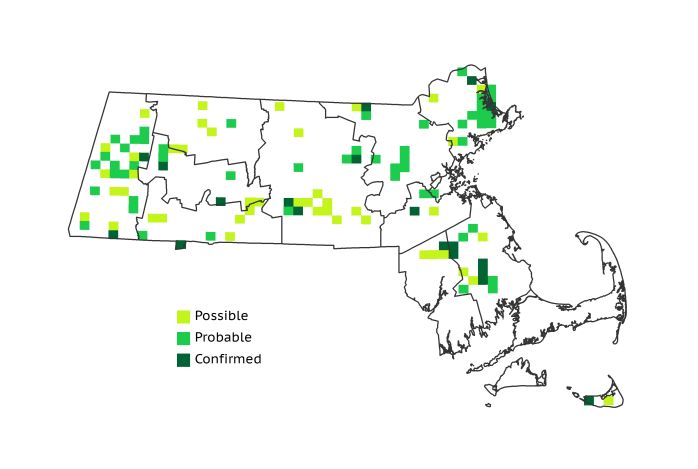 Atlas 2 Map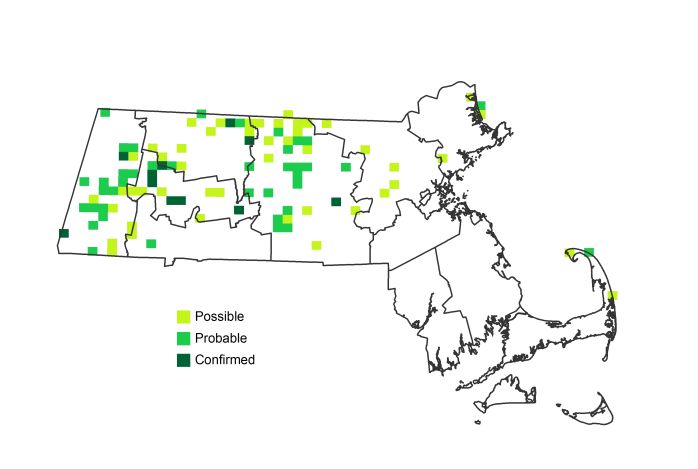 Atlas Change Map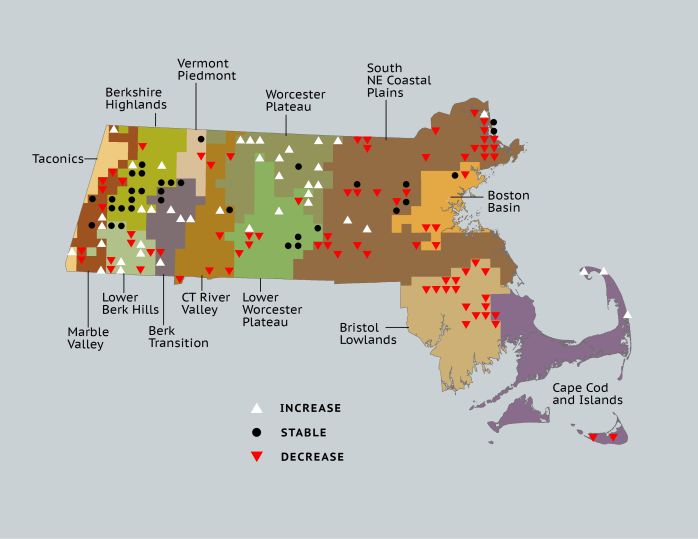 Ecoregion Data
Atlas 1

Atlas 2

Change

Ecoregion

# Blocks

% Blocks

% of Range

# Blocks

% Blocks

% of Range

Change in # Blocks

Change in % Blocks

Taconic Mountains

0

0.0

0.0

1

4.0

1.0

1

6.7

Marble Valleys/Housatonic Valley

9

23.1

7.8

7

17.9

7.1

-2

-5.1

Berkshire Highlands

13

23.6

11.3

17

30.9

17.3

3

5.7

Lower Berkshire Hills

8

28.6

7.0

7

22.6

7.1

-2

-7.4

Vermont Piedmont

2

11.8

1.7

2

11.8

2.0

-1

-8.3

Berkshire Transition

4

10.5

3.5

8

20.0

8.2

3

9.7

Connecticut River Valley

6

10.7

5.2

5

7.7

5.1

-4

-8.3

Worcester Plateau

3

3.8

2.6

24

27.3

24.5

11

22.9

Lower Worcester Plateau

11

14.9

9.6

12

15.0

12.2

-1

-1.9

S. New England Coastal Plains and Hills

35

13.0

30.4

11

3.9

11.2

-25

-11.1

Boston Basin

5

8.9

4.3

1

1.8

1.0

-4

-7.3

Bristol and Narragansett Lowlands

16

15.1

13.9

0

0.0

0.0

-16

-15.8

Cape Cod and Islands

3

2.2

2.6

3

2.1

3.1

0

0.0

Statewide Total

115

11.9

100.0

98

9.5

100.0

-37

-4.5
Breeding Bird Survey Chart