Orchard Oriole
---
Icterus spurius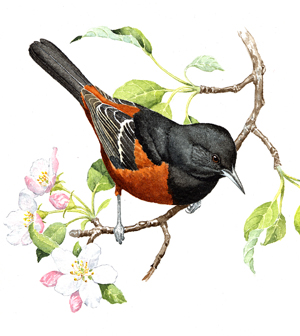 Somewhat local and strongly increasing
"The male is seen rising in the air for ten or twenty yards in an indirect manner, jerking his tail and body, flapping his wings, and singing with remarkable impetuosity, as if under the influence of haste, and anxious to return to the tree from which he has departed. He accordingly descends with the same motions of the body and tail, repeating his pleasant song as he alights." – John James Audubon, Birds of America
Warm weather brings hungry wildlife to the remaining orchards of New England, and among the assembled species comes the diminutive Orchard Oriole. The Orchard Oriole quietly roams open areas with scattered tree cover in search of insects and fruit to eat, and is willing to call well-wooded suburban neighborhoods home as well as park-like settings. Although less common and less well known than the Baltimore Oriole, the Orchard Oriole seems to have found a comfortable home in the fragmented landscape of modern-day Massachusetts.
Historic Status
Sporadic, episodic, or plain old rare – call the Orchard Oriole whatever you like. It has never been as numerous in Massachusetts as the Baltimore Oriole, but for the past century and a half has proven to be a welcome addition to the state's avifauna. Joel Asaph Allen commented in the late nineteenth century that at that time the species was most abundant in Massachusetts in the Connecticut River Valley (Allen 1878), although it was also found nesting in Wayland in 1887 and Ipswich in 1895 (Howe & Allen 1901). By the 1920s, Forbush noted that the bird could be found in every county in Massachusetts save for Nantucket (Forbush 1927). A decline in southeastern New York began to occur from this time forward, likely due to the loss of orchard habitat (Andrle & Carroll 1988). Nonetheless, in the 1960s the number of nesting pairs of Orchard Orioles started to grow in Massachusetts, which at that time marked the northern limit of the species' breeding range (Veit & Petersen 1993).
Atlas 1 Distribution
Coincidentally, Orchard Orioles were just beginning to increase in earnest in Massachusetts as volunteers took to the fields and forests to collect data for Atlas 1. Overall they were found in only 8% (75) of the blocks surveyed. The western part of the state only supported a few Orchard Orioles, with but a single block in each of the Marble Valleys and Berkshire Transition regions. The Connecticut River Valley, with its abundant hedgerows and orchards sprinkling the well-irrigated countryside, reported Orchard Orioles in 6 blocks. An additional solitary block in the Lower Worcester Plateau accounted for all the breeding activity west of the Coastal Plains. The Coastal Plains itself had 30 occupied blocks, most located in comparatively rural or lightly suburbanized areas. The Boston Basin and Bristol/Narragansett Lowlands each reported scattered breeding evidence, but the Cape and Islands had more occupied blocks than both of those regions combined.
Atlas 2 Distribution and Change
Steadily expanding their breeding range in Massachusetts, Orchard Orioles have become familiar in the eastern regions of the state, and now call 28% of the Commonwealth "home." This species more than tripled the number of blocks it occupied since Atlas 1, and it continues to show an affinity for the more low-lying areas of the Commonwealth. The patches of concentrated block occupancy in the west are in the Vermont Piedmont and the Connecticut River Valley, and many of these occupied blocks were new in Atlas 2. But it is in the regions from the Coastal Plains southward where this species has really taken up residence; with all such regions reporting higher than expected block occupancy, indicating the importance of this area of the state for the species.
Atlas 1 Map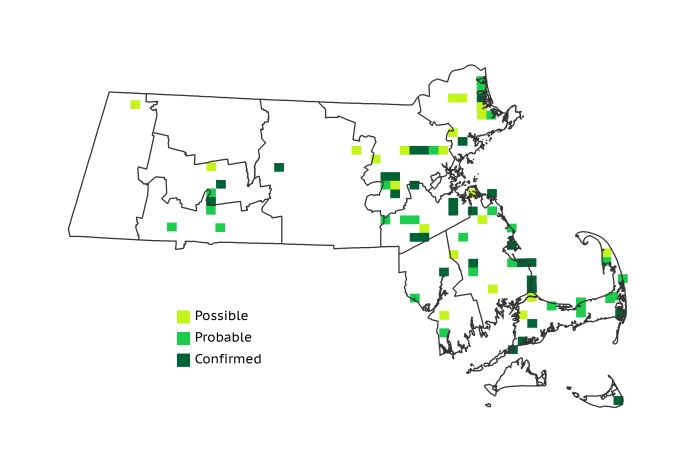 Atlas 2 Map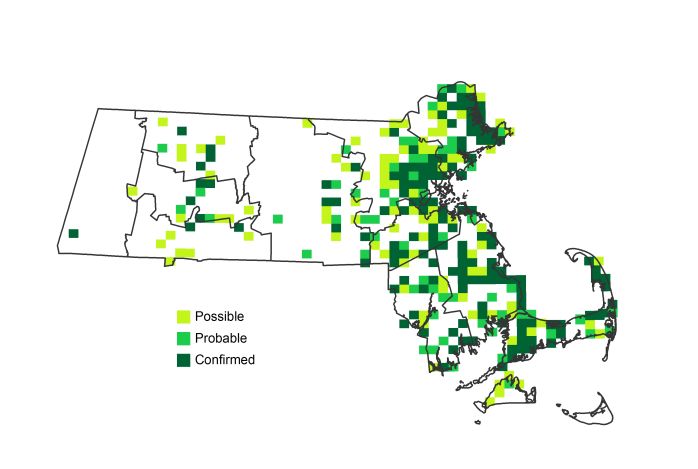 Atlas Change Map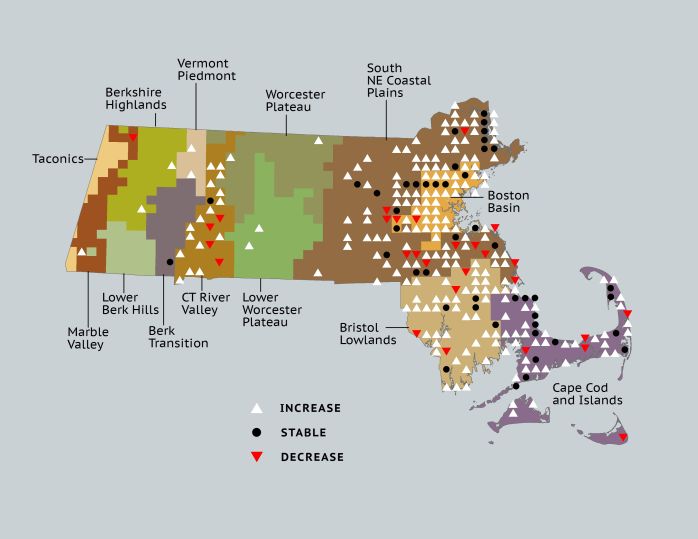 Ecoregion Data
Atlas 1

Atlas 2

Change

Ecoregion

# Blocks

% Blocks

% of Range

# Blocks

% Blocks

% of Range

Change in # Blocks

Change in % Blocks

Taconic Mountains

0

0.0

0.0

0

0.0

0.0

0

0.0

Marble Valleys/Housatonic Valley

1

2.6

1.3

1

2.6

0.3

0

0.0

Berkshire Highlands

0

0.0

0.0

3

5.5

1.0

2

3.8

Lower Berkshire Hills

0

0.0

0.0

0

0.0

0.0

0

0.0

Vermont Piedmont

0

0.0

0.0

3

17.6

1.0

2

16.7

Berkshire Transition

1

2.6

1.3

1

2.5

0.3

0

0.0

Connecticut River Valley

6

10.7

8.0

18

27.7

6.1

12

25.0

Worcester Plateau

0

0.0

0.0

2

2.3

0.7

2

4.2

Lower Worcester Plateau

1

1.4

1.3

6

7.5

2.0

2

3.7

S. New England Coastal Plains and Hills

30

11.1

40.0

115

40.6

39.0

64

28.3

Boston Basin

8

14.3

10.7

38

67.9

12.9

30

54.5

Bristol and Narragansett Lowlands

9

8.5

12.0

50

43.9

16.9

37

36.6

Cape Cod and Islands

19

14.0

25.3

58

40.3

19.7

30

25.0

Statewide Total

75

7.7

100.0

295

28.4

100.0

181

21.8
Notes
The Orchard Oriole shows a significant increasing Breeding Bird Survey trend in the New England/Mid-Atlantic Region, but a significant decreasing Breeding Bird Survey trend in the Eastern US overall.
Breeding Bird Survey Chart