Eastern Meadowlark
---
Sturnella magna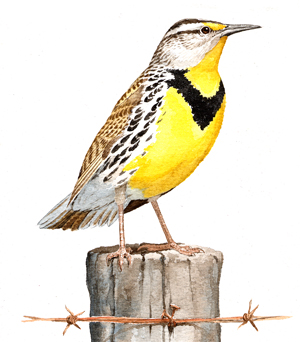 Local and strongly declining

Conservation action urgent
"Have the breezes of time blown their blossomy faces / Forever adrift down the years that are flown? / Am I never to see them romp back to their places, / Where over the meadow, / In sunshine and shadow, / The meadow-larks trill, and the bumblebees drone?" – James Whitcomb Riley, "The Boys"
The Eastern Meadowlark is only distantly related to the true larks. Despite its bright coloration, the meadowlark is actually a member of the blackbird family Icteridae. No idyllic scene of a grassy pastoral landscape is complete without a meadowlark singing from atop a fencepost, but unfortunately this sight is becoming increasingly rare in the Commonwealth these days. The Eastern Meadowlark's cheerful song can still be heard by those willing to seek it out, but all evidence points to a serious decline for this iconic bird of our countryside.
Historic Status
Long before the European Starling invaded the United States, Massachusetts bird observers knew the Eastern Meadowlark as the "American Starling," or "Marsh Quail." They also knew it as a common sight in both meadows and old fields, and so it was throughout the nineteenth century, an era of unprecedented forest clearing and agricultural pursuit in Massachusetts (Howe & Allen 1901). Through the 1920s, the bird remained an easy check on a birder's list in the Bay State and a welcome presence in the farm fields. As Forbush put it, "…it is one of the most useful birds of the fields, perhaps the most valuable. […] It eats about all the principal pests of the fields, and is particularly destructive to cutworms, hairy ground caterpillars, and grasshoppers" (Forbush 1927). Sadly, as reforestation commenced and old pastures vanished, darker days began to lie ahead for this once-common bird.
Atlas 1 Distribution
It is hard to believe that just 35 years ago Eastern Meadowlarks were found breeding in 44% of the Atlas 1 blocks, but easier to imagine they were strongly associated with areas of remnant grassland and coastal marsh in Atlas 1. They were widespread, with a few in every region. The Marble Valleys and Connecticut River Valley stood out clearly as areas of considerable meadowlark breeding activity in the west, but the surrounding regions had only a few handfuls of occupied blocks. Though the high and well-forested Worcester Plateau was similarly short on meadowlark habitat, the Lower Worcester Plateau reported a broader distribution of these striking blackbirds. The Coastal Plains hosted 36% of the species' statewide distribution, with the birds likely favoring areas of pasture and hayfield inland and coastal marshlands farther east. The Bristol/Narragansett Lowlands boasted an impressive concentration of breeding meadowlarks around Middleboro and Bridgewater. The birds were broadly present but notably scarcer on Cape Cod and the Islands.
Atlas 2 Distribution and Change
By all measures and reports, the state of the breeding Eastern Meadowlark population in Massachusetts can best be described as "imperiled." As the species has suffered one of the sharpest declines in block occupancy of any species in the state (44% in Atlas 1 to 10% in Atlas 2), the Eastern Meadowlark seems destined to become potentially another boutique species, rare and living on just a few managed parcels, and also a reminder of days when there were ample grasslands to support them in the state. Other species favoring grassland habitat seem likely to gradually share the same fate. The meadowlark's range is fragmented across the state, and losses are found in every ecoregion. The Connecticut River Valley and Boston Basin, especially Essex County, still harbor some occupied blocks. Losses in much of the western regions are large, although fortunately that part of the state holds opportunities for recovery.
Atlas 1 Map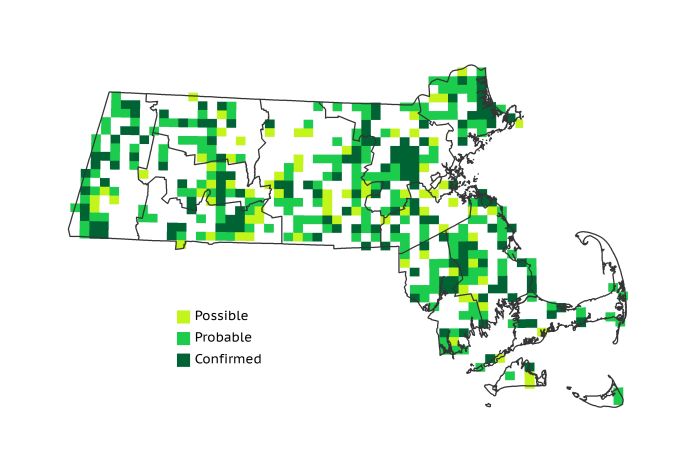 Atlas 2 Map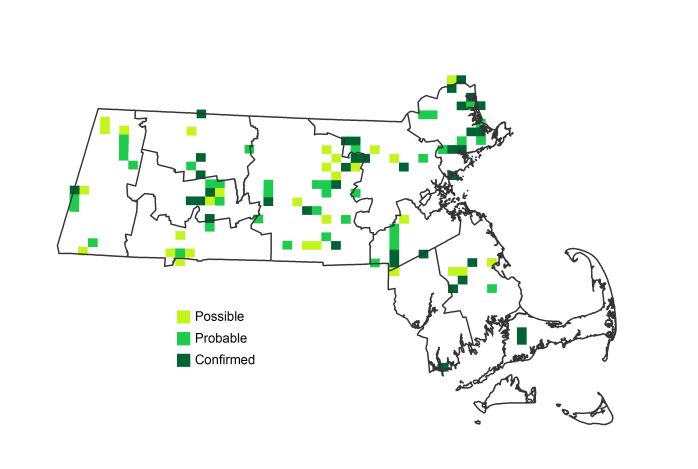 Atlas Change Map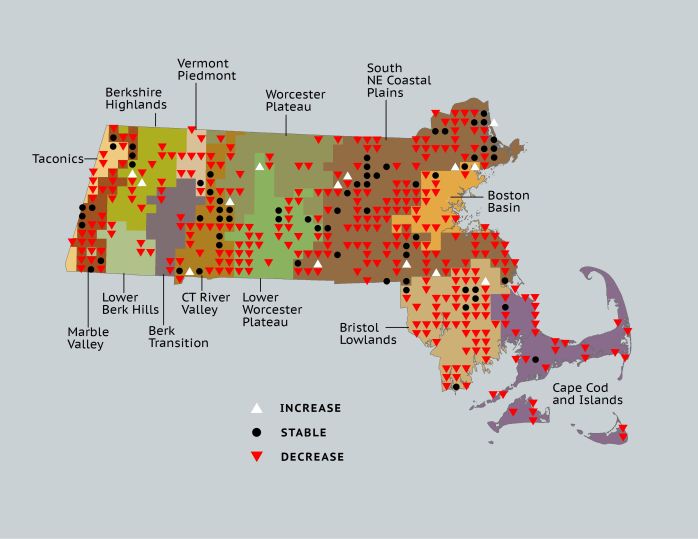 Ecoregion Data
Atlas 1

Atlas 2

Change

Ecoregion

# Blocks

% Blocks

% of Range

# Blocks

% Blocks

% of Range

Change in # Blocks

Change in % Blocks

Taconic Mountains

7

43.8

1.6

1

4.0

1.0

-6

-40.0

Marble Valleys/Housatonic Valley

32

82.1

7.5

9

23.1

8.6

-23

-59.0

Berkshire Highlands

12

21.8

2.8

3

5.5

2.9

-9

-17.0

Lower Berkshire Hills

6

21.4

1.4

0

0.0

0.0

-6

-22.2

Vermont Piedmont

11

64.7

2.6

2

11.8

1.9

-8

-66.7

Berkshire Transition

6

15.8

1.4

0

0.0

0.0

-6

-19.4

Connecticut River Valley

41

73.2

9.6

16

24.6

15.2

-24

-50.0

Worcester Plateau

13

16.7

3.0

2

2.3

1.9

-11

-22.9

Lower Worcester Plateau

35

47.3

8.2

7

8.8

6.7

-26

-48.1

S. New England Coastal Plains and Hills

154

57.0

36.1

51

18.0

48.6

-101

-44.7

Boston Basin

17

30.4

4.0

4

7.1

3.8

-14

-25.5

Bristol and Narragansett Lowlands

59

55.7

13.8

7

6.1

6.7

-51

-50.5

Cape Cod and Islands

34

25.0

8.0

3

2.1

2.9

-31

-25.8

Statewide Total

427

44.1

100.0

105

10.1

100.0

-316

-38.1
Notes
The Breeding Bird Survey shows significant declines in Eastern Meadowlark abundance for Massachusetts, the New England/Mid-Atlantic Region, and the Eastern US overall.
Breeding Bird Survey Chart