Blackpoll Warbler
---
Dendroica striata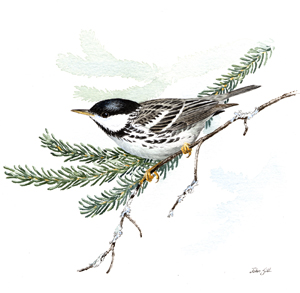 Very local, trend not established

Species of Special Concern
"Its activity is pleasing, but its notes have no title to be called a song. They are shrill, and resemble the noise made by striking two small pebbles together, more than any other sound that I know." – John James Audubon, Birds of America
The Blackpoll Warbler is a very common migrant in Massachusetts, and it is often located by its high-frequency song as it passes through the state. The sound is so high that many birders claim that being unable to hear the Blackpoll Warbler's song is one of the first signs of hearing loss. From June through August, however, there are precious few places in the Commonwealth where even observers with the keenest hearing can hope to hear a Blackpoll Warbler sing. Given that we are on the extreme southern edge of this species' breeding range, it is not surprising that breeding pairs of this subalpine specialist are few and far between in the Bay State.
Historic Status
Blackpoll Warblers have long been a sign that spring migration is nearing its end. Edward Howe Forbush wrote that "when their sibilant insect-like songs come from orchards, shade trees and woodlands on every hand we hear them in sadness, for they signify that the great vernal flight of the beautiful wood sprites will soon pass—" (Forbush 1929). Although there is a historic record claiming that this species once bred in Savoy, for the most part this denizen of boreal forests is associated with only one locale in Massachusetts – Mount Greylock (Petersen & Meservey 2003).
Atlas 1 Distribution
Most Blackpoll Warblers breed well to our north, so the only place they were Confirmed breeding in Atlas 1 was near the summit of Mount Greylock in the Taconics. Because Massachusetts lies at the very southern extreme of the Blackpoll Warbler's breeding range, it is reasonable to also expect the occasional outlying block in the northernmost parts of the state where Possible nesting might occur, such as the single Vermont Piedmont record. Though common as migrants, Blackpoll Warblers were not known to breed anywhere else in the state at the time of Atlas 1.
Atlas 2 Distribution and Change
Blackpoll Warblers remained extremely local as breeders in Massachusetts during Atlas 2. They were Confirmed still breeding at Mount Greylock, and a Probable record from the Worcester Plateau offered slim hope of another breeding location. A Possible record from Plymouth County was likely nothing more than a late migrant, although it was recorded during Safe Dates.
Atlas 1 Map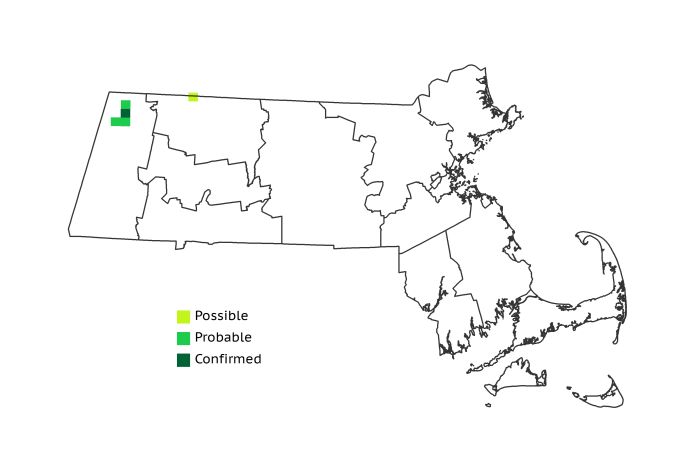 Atlas 2 Map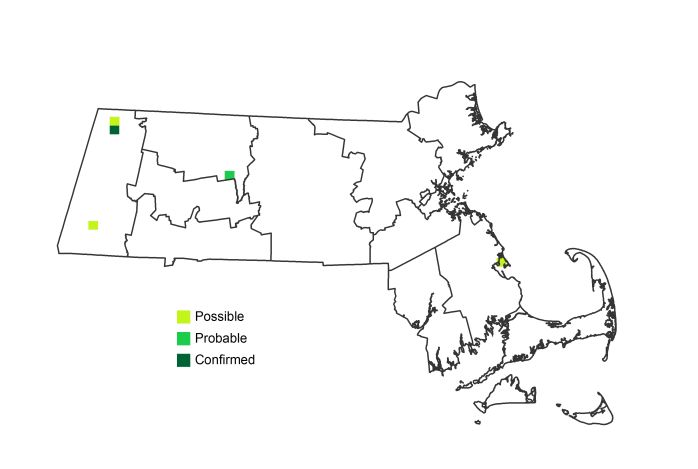 Atlas Change Map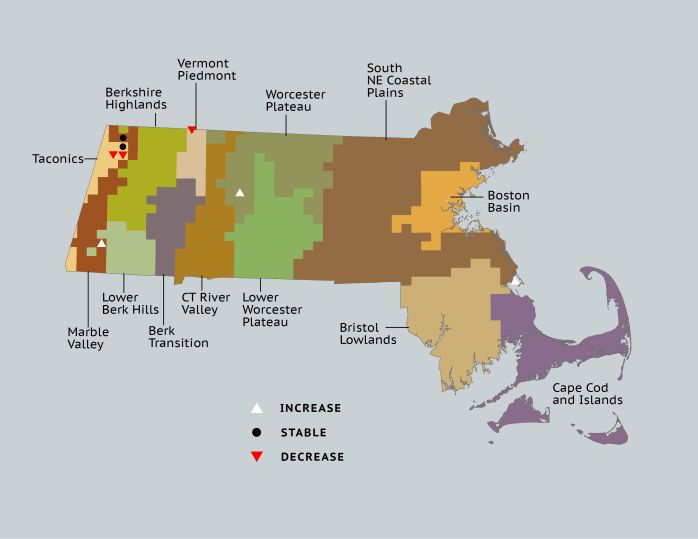 Ecoregion Data
Atlas 1

Atlas 2

Change

Ecoregion

# Blocks

% Blocks

% of Range

# Blocks

% Blocks

% of Range

Change in # Blocks

Change in % Blocks

Taconic Mountains

3

18.8

60.0

1

4.0

20.0

-2

-13.3

Marble Valleys/Housatonic Valley

1

2.6

20.0

2

5.1

40.0

1

2.6

Berkshire Highlands

0

0.0

0.0

0

0.0

0.0

0

0.0

Lower Berkshire Hills

0

0.0

0.0

0

0.0

0.0

0

0.0

Vermont Piedmont

1

5.9

20.0

0

0.0

0.0

-1

-8.3

Berkshire Transition

0

0.0

0.0

0

0.0

0.0

0

0.0

Connecticut River Valley

0

0.0

0.0

0

0.0

0.0

0

0.0

Worcester Plateau

0

0.0

0.0

1

1.1

20.0

1

2.1

Lower Worcester Plateau

0

0.0

0.0

0

0.0

0.0

0

0.0

S. New England Coastal Plains and Hills

0

0.0

0.0

1

0.4

20.0

1

0.4

Boston Basin

0

0.0

0.0

0

0.0

0.0

0

0.0

Bristol and Narragansett Lowlands

0

0.0

0.0

0

0.0

0.0

0

0.0

Cape Cod and Islands

0

0.0

0.0

0

0.0

0.0

0

0.0

Statewide Total

5

0.5

100.0

5

0.5

100.0

0

0.0