European Starling
---
Sturnus vulgaris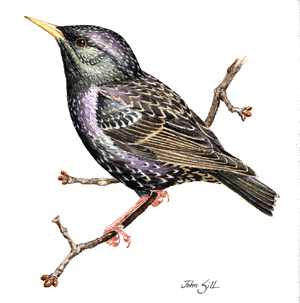 Nearly ubiquitous and likely declining
"You fly back to school now, little Starling. Fly, fly fly..." – Dr. Hannibal Lecter, in Ted Tally's screenplay, The Silence of the Lambs
Many Massachusetts residents have awakened in the morning to the harsh cacophony created by European Starlings. This introduced species has become one of the commonest birds throughout Massachusetts in a remarkably short time, and it is often viewed as a nuisance and a pest. As a cavity nester that often usurps nest sites from other species, the starling has wreaked havoc on some native cavity-nesting birds (Cabe 1993).
Historic Status
Blame Eugene Scheiffelin for the presence of this species in the New World. In the late 1800s, he spearheaded the effort to bring every bird that was mentioned in Shakespeare's plays to America. Approximately a dozen attempts were made to establish the European Starling, including one at Worcester in 1884, and at Forest Park, Springfield, in 1897, "but eventually they all disappeared," said Reginald Heber Howe and Glover Morrill Allen four years later (Howe & Allen 1901). An introduction attempted in New York City was successful, and by 1908 a starling was seen in Essex County. "There is often a possibility that any introduced bird or mammal that will bring no money to the pocket of the hunter or marketman will become a pest," said Edward Howe Forbush in Useful Birds and Their Protection (Forbush 1907). "We have had such an experience with the 'English' sparrow, and we may yet regret the recent importation of the European Starling." How right he was.
Atlas 1 Distribution
When the Atlas 1 surveys were done, the European Starling's distribution had reached near-epic proportions in Massachusetts, especially for a species that had been in the state fewer than 70 years. Equally at home in bustling cities, quiet suburbs, and rural areas, starlings prospered from the Berkshires to Nantucket and most places in between, posting 95% block occupancy statewide. Only the deepest, most intact forests of the state were free from breeding starlings, and the birds' apparent absence from several blocks in the Worcester Plateau region is most likely attributable to uneven block coverage during Atlas 1. The species was truly ubiquitous in the eastern regions, failing to appear only in a few aberrant blocks and some locations on the islands.
Atlas 2 Distribution and Change
European Starlings were showing negative trends in abundance and distribution both here and in their native range during Atlas 2, but overall the species' footprint only changed slightly, with a drop of 3% in the state. In western and central Massachusetts, gaps appeared particularly in the Berkshire Highlands, but generally small fluctuations in occupancy did not meaningfully impact the remarkable persistence of starlings on the landscape. Small declines in the Coastal Plains and Bristol/Narragansett Lowlands and an incremental increase in the Boston Basin were likewise noted. Cape Cod and the Islands was the only region to drop below 80% stable occupancy.
Atlas 1 Map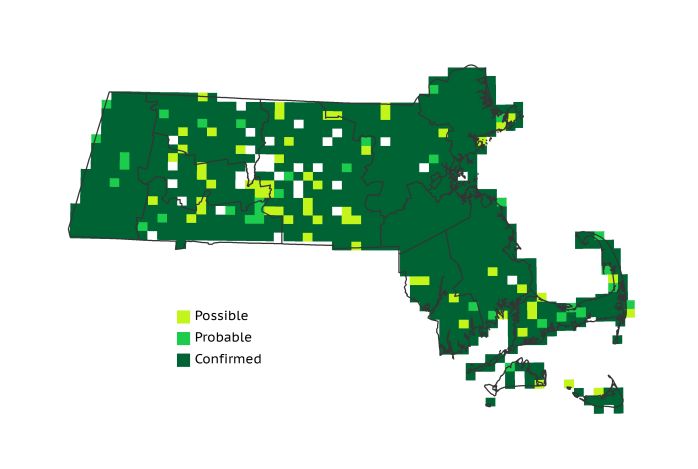 Atlas 2 Map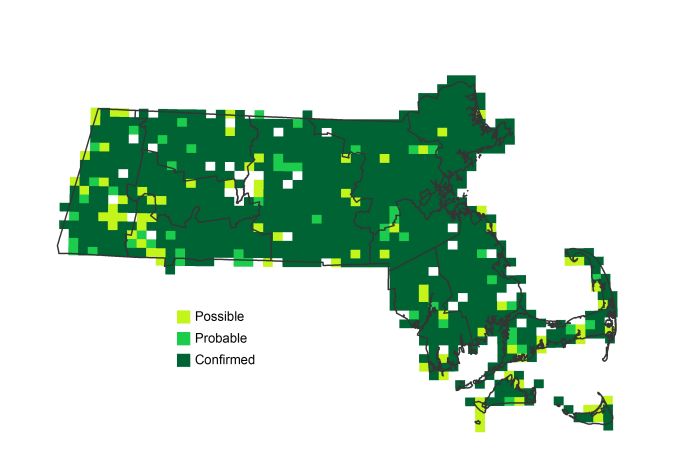 Atlas Change Map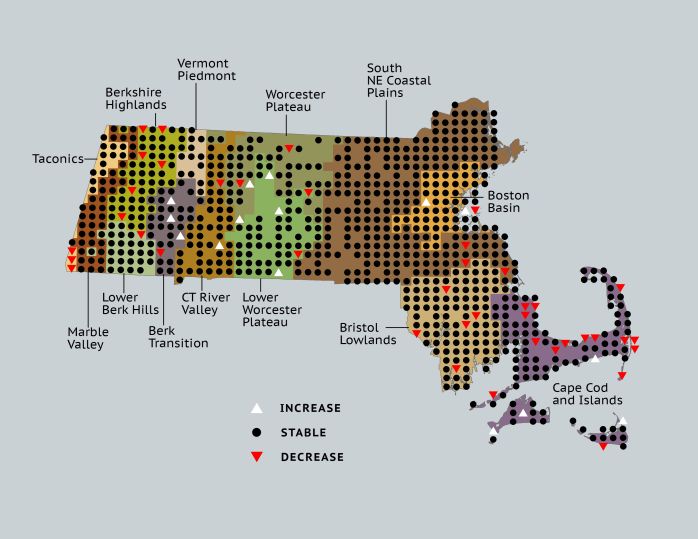 Ecoregion Data
Atlas 1

Atlas 2

Change

Ecoregion

# Blocks

% Blocks

% of Range

# Blocks

% Blocks

% of Range

Change in # Blocks

Change in % Blocks

Taconic Mountains

16

100.0

1.7

16

64.0

1.7

-3

-20.0

Marble Valleys/Housatonic Valley

39

100.0

4.2

39

100.0

4.1

0

0.0

Berkshire Highlands

54

98.2

5.9

49

89.1

5.2

-6

-11.3

Lower Berkshire Hills

27

96.4

2.9

27

87.1

2.9

-1

-3.7

Vermont Piedmont

17

100.0

1.8

17

100.0

1.8

0

0.0

Berkshire Transition

35

92.1

3.8

38

95.0

4.0

2

6.5

Connecticut River Valley

55

98.2

6.0

63

96.9

6.7

1

2.1

Worcester Plateau

68

87.2

7.4

74

84.1

7.9

-1

-2.1

Lower Worcester Plateau

64

86.5

7.0

69

86.3

7.3

1

1.9

S. New England Coastal Plains and Hills

266

98.5

28.9

275

97.2

29.2

-3

-1.3

Boston Basin

54

96.4

5.9

55

98.2

5.8

1

1.8

Bristol and Narragansett Lowlands

105

99.1

11.4

106

93.0

11.3

-5

-5.0

Cape Cod and Islands

119

87.5

12.9

114

79.2

12.1

-11

-9.2

Statewide Total

919

94.8

100.0

942

90.8

100.0

-25

-3.0
Notes
The curious case of the European Starling continues both here and abroad. The species shows a significant decreasing Breeding Bird Survey trends in Massachusetts, in the New England/Mid-Atlantic Region, and in the Eastern US overall. Within European Starling's native range the species' abundance has fallen sharply, and it is now Red Listed in Great Britain. The causes for the decline of both urban and rural starlings is not well understood, but the decline we see on this "side of the pond" could be driven by the same factors as those that are driving declines in Great Britain.
Breeding Bird Survey Chart