Red-breasted Merganser
---
Mergus serrator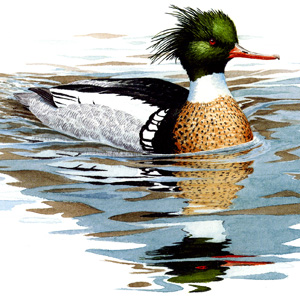 Very local, trend not established
"Mergansers came many, with fish in their throat, / By gluttony prompted their bodies to bloat." – James Jennings, "Ornithologia"
Many Red-breasted Mergansers have traditionally wintered along the Massachusetts coastline, and in the past few decades these assemblages have boasted tens of thousands of birds. Red-breasted Mergansers appear in Massachusetts most often in late fall and early winter, where they crowd the Bay State's bays in search of fish to eat. True to the species' marine character, even those rare Red-breasted Mergansers found breeding in Massachusetts have always been recorded at the coast.
Historic Status
The Red-breasted Merganser was not known to breed in Massachusetts during the early days of avian observation, and was understood to be a "resident in the north" that came south only when Canadian ponds froze. Then, interestingly, it became common along the coast and a rarity inland. By 1877, suspicions of breeding arose, and whispers by gunners in Falmouth about finding flightless young with their parents began to emerge. Those rumors continued along the shores of Cape Cod into the 1920s, when a downy youngster was actually captured by a dog in Essex County (Forbush 1925). Despite these events, through the 1960s, no active nest was ever found in Massachusetts, though tantalizing clues hinted at local breeding activity.
Atlas 1 Distribution
Regardless of the fairly long and checkered breeding history of the Red-breasted Merganser in the Commonwealth, the species has always been a rare breeder whose nest sites are apparently very difficult to find. It is unclear whether the species even bred annually at the time of Atlas 1, but regardless, 2 Confirmed blocks were reported. The first was in the south of the Coastal Plains at Duxbury, while the other was at the north island of Monomoy National Wildlife Refuge.
Atlas 2 Distribution and Change
During Atlas 2 Red-breasted Mergansers were not Confirmed, and were only recorded in 2 blocks. Interestingly, they were recorded in the same 2 blocks as they were during Atlas 1. Whether this speaks to the rarity of suitable nesting habitat for this species in Massachusetts, the persistence of Red-breasted Mergansers, or both, is anyone's guess.
Atlas 1 Map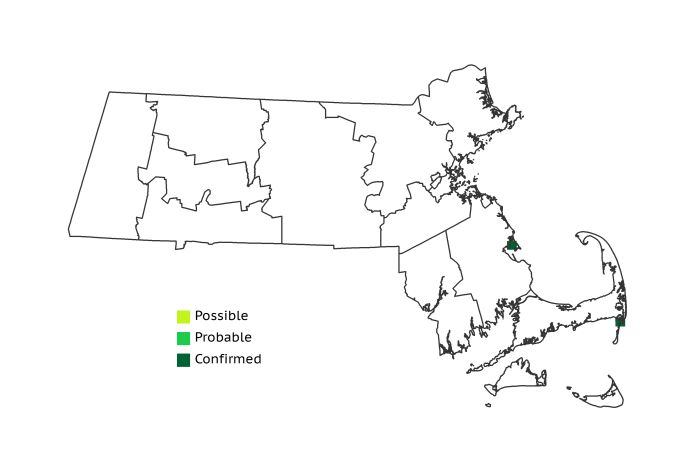 Atlas 2 Map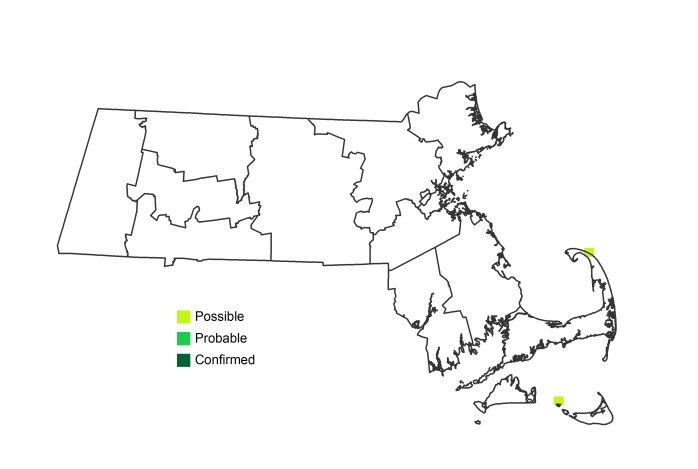 Atlas Change Map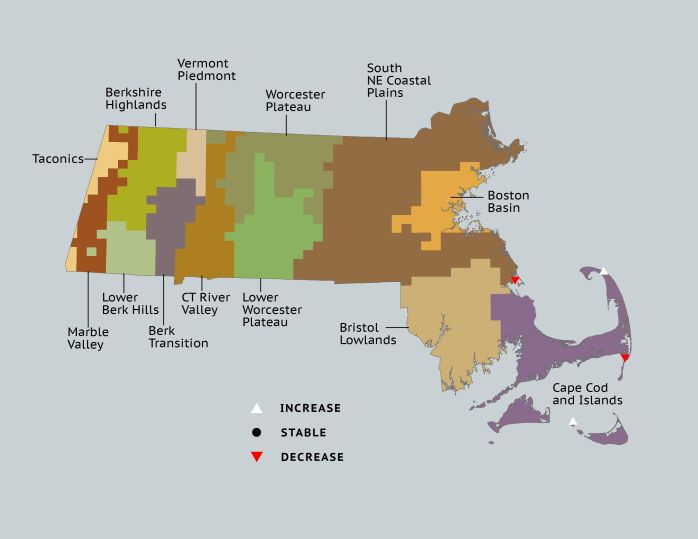 Ecoregion Data
Atlas 1

Atlas 2

Change

Ecoregion

# Blocks

% Blocks

% of Range

# Blocks

% Blocks

% of Range

Change in # Blocks

Change in % Blocks

Taconic Mountains

0

0.0

0.0

0

0.0

0.0

0

0.0

Marble Valleys/Housatonic Valley

0

0.0

0.0

0

0.0

0.0

0

0.0

Berkshire Highlands

0

0.0

0.0

0

0.0

0.0

0

0.0

Lower Berkshire Hills

0

0.0

0.0

0

0.0

0.0

0

0.0

Vermont Piedmont

0

0.0

0.0

0

0.0

0.0

0

0.0

Berkshire Transition

0

0.0

0.0

0

0.0

0.0

0

0.0

Connecticut River Valley

0

0.0

0.0

0

0.0

0.0

0

0.0

Worcester Plateau

0

0.0

0.0

0

0.0

0.0

0

0.0

Lower Worcester Plateau

0

0.0

0.0

0

0.0

0.0

0

0.0

S. New England Coastal Plains and Hills

1

0.4

50.0

0

0.0

0.0

-1

-0.4

Boston Basin

0

0.0

0.0

0

0.0

0.0

0

0.0

Bristol and Narragansett Lowlands

0

0.0

0.0

0

0.0

0.0

0

0.0

Cape Cod and Islands

1

0.7

50.0

2

1.4

100.0

1

0.8

Statewide Total

2

0.2

100.0

2

0.2

100.0

0

0.0