Short-eared Owl
---
Asio flammeus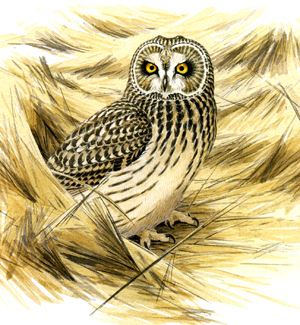 Very local and strongly declining

Conservation action urgent

Endangered Species
"In air it exemplifies the poetry of motion. Its pinions press softly on the resistant element and waft the bird gently about over its favorite moors as lightly as a night-moth." – Edward Howe Forbush, Birds of Massachusetts and Other New England States
Words such as "floppy," "bouncy," and "erratic" are often used to describe the manner in which the Short-eared Owl makes quartering flights over open fields and marshes in search of voles and other small prey. Just as the Great Horned Owl takes over the duties of the Red-tailed Hawk when night falls, so, it seems, the Short-eared Owl relieves the Northern Harrier when the sun begins to set upon the marshes and wet meadows of Massachusetts. Once widespread denizens of hay meadows and pastures throughout the Commonwealth, Short-eared Owls now flirt with extirpation as a breeding species. The best time to encounter the species in Massachusetts is during the depths of winter.
Historic Status
If Shorties nested in Massachusetts in the 1830s, they did so clandestinely. "The Short-eared Owl, Strix brachyotus [flammeus]," wrote William Peabody in 1839, "is another of those wanderers which occasionally leave their northern home to visit us." By the 1860s, breeding was commonplace in the open grasslands of the state's thriving agrarian landscape (Maynard 1870). Four decades later, its heyday had waned. By 1896, the Short-eared Owl had ceased breeding in Longmeadow and elsewhere in the Connecticut River Valley and retreated primarily to Nantucket and Martha's Vineyard (Howe & Allen 1901). Gradual reforestation and coastal development eventually provided a one-two punch that severely limited the species' opportunity to breed in the state as the twentieth century progressed.
Atlas 1 Distribution
Having fallen far from their former statewide distribution, Short-eared Owls in Atlas 1 were relegated to the offshore Islands and Monomoy National Wildlife Refuge for breeding. Nantucket and Tuckernuck Islands represented the apparent stronghold of the species in Massachusetts, thanks in large part to sizable remaining areas of grassland and coastal marsh. Short-eared Owls were also present on Martha's Vineyard, but the dwindling breeding activity on Monomoy foreshadowed the species' disappearance from "mainland" Massachusetts.
Atlas 2 Distribution and Change
And so it went. By the time of Atlas 2, the disappearance of the Short-eared Owl had nearly reached a climax in Massachusetts, with just two nesting Confirmations recorded in Massachusetts in 5 years, both on Nantucket's Tuckernuck Island. Habitat loss drove the species to the absolute brink of extirpation in Massachusetts. Whether or not this small population will persist, and for how long, remains an open question. In the meantime, the continued breeding of Short-eared Owls elsewhere in the Commonwealth seems unlikely, and care should be taken to follow up on reports of Short-eared Owls lingering in suitable habitat into late spring. During the Atlas, observers noted courtship displays of Short-eareds in Plymouth County, but the birds never remained to breed. This is slightly encouraging, and observers should remain vigilant, but new mainland breeding records for this species seem unlikely at present.
Atlas 1 Map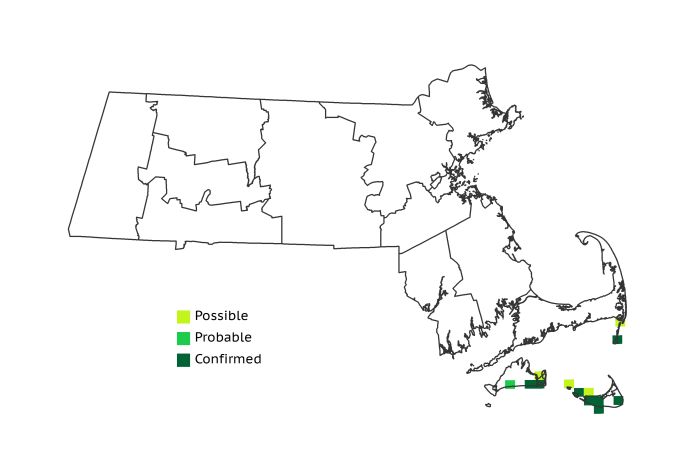 Atlas 2 Map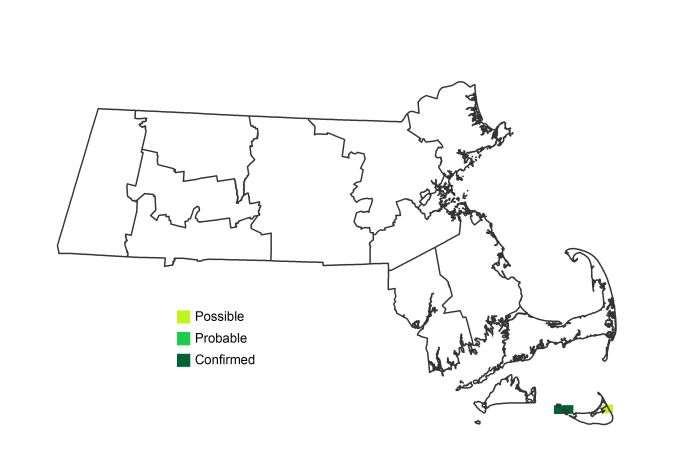 Atlas Change Map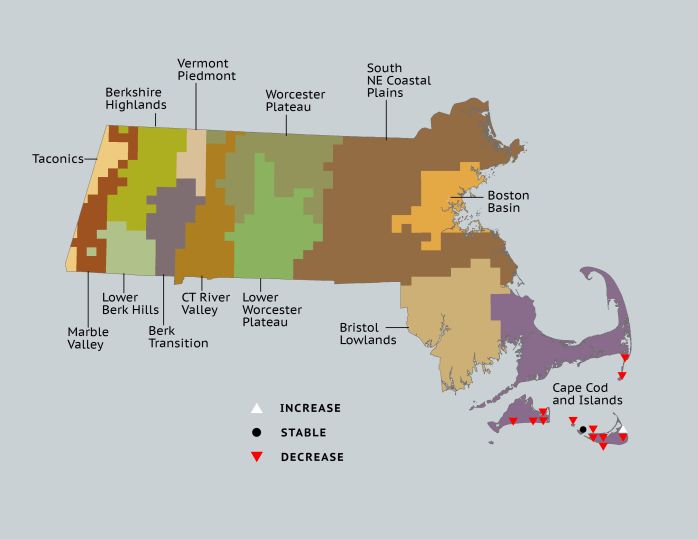 Ecoregion Data
Atlas 1

Atlas 2

Change

Ecoregion

# Blocks

% Blocks

% of Range

# Blocks

% Blocks

% of Range

Change in # Blocks

Change in % Blocks

Taconic Mountains

0

0.0

0.0

0

0.0

0.0

0

0.0

Marble Valleys/Housatonic Valley

0

0.0

0.0

0

0.0

0.0

0

0.0

Berkshire Highlands

0

0.0

0.0

0

0.0

0.0

0

0.0

Lower Berkshire Hills

0

0.0

0.0

0

0.0

0.0

0

0.0

Vermont Piedmont

0

0.0

0.0

0

0.0

0.0

0

0.0

Berkshire Transition

0

0.0

0.0

0

0.0

0.0

0

0.0

Connecticut River Valley

0

0.0

0.0

0

0.0

0.0

0

0.0

Worcester Plateau

0

0.0

0.0

0

0.0

0.0

0

0.0

Lower Worcester Plateau

0

0.0

0.0

0

0.0

0.0

0

0.0

S. New England Coastal Plains and Hills

0

0.0

0.0

0

0.0

0.0

0

0.0

Boston Basin

0

0.0

0.0

0

0.0

0.0

0

0.0

Bristol and Narragansett Lowlands

0

0.0

0.0

0

0.0

0.0

0

0.0

Cape Cod and Islands

13

9.6

100.0

3

2.1

100.0

-11

-9.2

Statewide Total

13

1.3

100.0

3

0.3

100.0

-11

-1.3