Eastern Screech-Owl
---
Megascops asio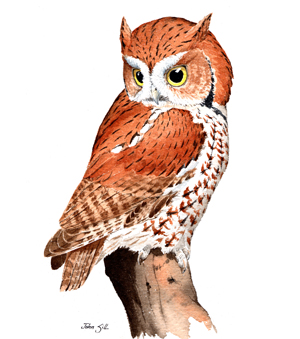 Somewhat local and stable
"Whilst the screech-owl, screeching loud, / Puts the wretch that lies in woe / In remembrance of a shroud." – William Shakespeare, A Midsummer Night's Dream
Although the species is quite widespread in second-growth forests, especially at lower elevations, often the only clue to the presence of an Eastern Screech-Owl is the sound of its quavering voice. The many different vocalizations of this species – including whinnies, trills, moans, rattles, and screeches – have echoed through the Massachusetts night for centuries. In modern times, Eastern Screech-Owls seem to be adapting well to a human-modified landscape, regularly roosting and nesting in artificial boxes as well as natural tree cavities in both urban and suburban haunts, as well as in agricultural landscapes.
Historic Status
The Eastern Screech-Owl has long portended ill fortune for superstitious souls in Massachusetts, and as such the species has always been the subject of local folklore (Forbush 1927). Superficially studied prior to the advent of artificial lighting, the birds were known mostly for their sounds, in which writers like Henry David Thoreau reveled (Thoreau 1845). Population estimates prior to the twentieth century are nonexistent, yet the species' adaptability suggests that Eastern Screech-Owls were likely present throughout Massachusetts' changing woodlands during the historical period. Yet, even with this, the Eastern Screech-Owl appears to be coping well with suburbanization, including the extensive use of artificial nesting boxes.
Atlas 1 Distribution
Eastern Screech-Owls were found statewide in Atlas 1, especially in areas of mixed or deciduous forest. They were seldom encountered in the high-elevation forests of the Berkshires, but occurred with greater frequency in the moist lowlands such as the Marble Valleys and the Connecticut River Valley. The Worcester and Lower Worcester Plateau regions supported very few screech-owls, but the Coastal Plains hosted the species in 26% of blocks. The Eastern Screech-Owl's willingness to live near humans allowed it to occupy almost 40% of blocks even in the most densely settled ecoregion, the Boston Basin. Screech-Owls were also fairly widespread in the Bristol/Narragansett Lowlands but present to a lesser extent on Cape Cod and the Islands.
Atlas 2 Distribution and Change
The Eastern Screech-Owl continues to hold court each spring evening in about 20% of Massachusetts' varied landscape. Never a dedicated denizen of the Berkshires, the species all but moved out of the western extremes of the state, and made a protracted retreat from the Bristol/Narragansett Lowlands as well. Instead, the Eastern Screech-Owl found new homes in Essex County and on Cape Cod, signifying that the trees in the latter region have perhaps become large enough to support their nest holes.
Atlas 1 Map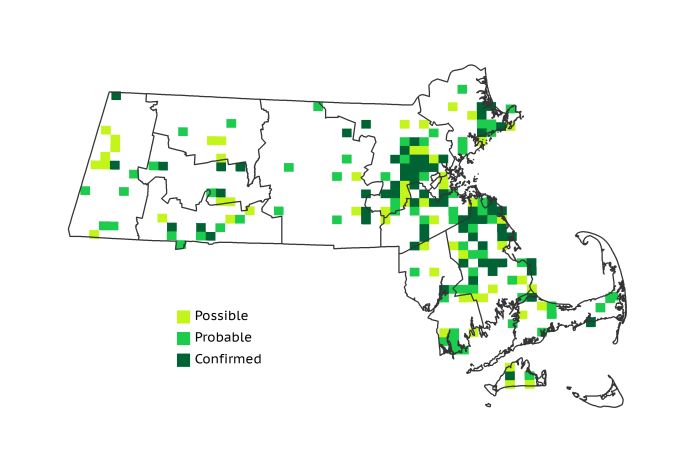 Atlas 2 Map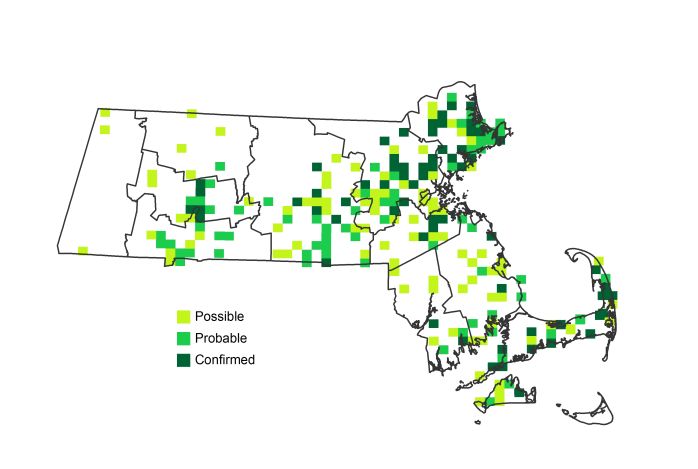 Atlas Change Map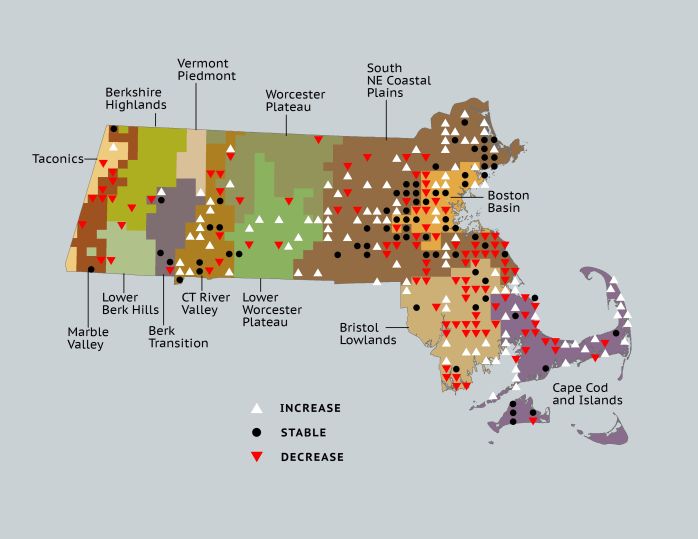 Ecoregion Data
Atlas 1

Atlas 2

Change

Ecoregion

# Blocks

% Blocks

% of Range

# Blocks

% Blocks

% of Range

Change in # Blocks

Change in % Blocks

Taconic Mountains

1

6.3

0.5

1

4.0

0.5

0

0.0

Marble Valleys/Housatonic Valley

9

23.1

4.7

2

5.1

0.9

-7

-17.9

Berkshire Highlands

2

3.6

1.0

0

0.0

0.0

-2

-3.8

Lower Berkshire Hills

2

7.1

1.0

0

0.0

0.0

-2

-7.4

Vermont Piedmont

1

5.9

0.5

3

17.6

1.4

1

8.3

Berkshire Transition

5

13.2

2.6

5

12.5

2.3

-1

-3.2

Connecticut River Valley

13

23.2

6.8

23

35.4

10.4

6

12.5

Worcester Plateau

3

3.8

1.6

3

3.4

1.4

0

0.0

Lower Worcester Plateau

5

6.8

2.6

9

11.3

4.1

3

5.6

S. New England Coastal Plains and Hills

71

26.3

37.2

96

33.9

43.2

11

4.9

Boston Basin

22

39.3

11.5

20

35.7

9.0

-2

-3.6

Bristol and Narragansett Lowlands

32

30.2

16.8

21

18.4

9.5

-11

-10.9

Cape Cod and Islands

25

18.4

13.1

39

27.1

17.6

8

6.7

Statewide Total

191

19.7

100.0

222

21.4

100.0

4

0.5
Breeding Bird Survey Chart