Sandhill Crane
---
Grus canadensis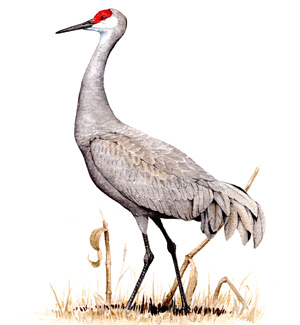 Very local, trend not established
"When we hear his call we hear no mere bird. We hear the trumpet in the orchestra of evolution. He is the symbol of our untamable past, of that incredible sweep of millennia which underlies and conditions the daily affairs of birds and men." – Aldo Leopold, A Sand County Almanac
The elegance of the dancing crane has captured the imagination of martial artists, dancers, poets, painters, and birdwatchers for thousands of years. Breeding cranes in the Commonwealth of Massachusetts may seem like another flight of fancy but Sandhill Cranes appear to be ready to give Massachusetts a go.
Historic Status
John Brereton and Gabriel Archer, in visiting the New World in the company of Bartholomew Gosnold, found cranes, believed to be of this species, on what would eventually be Nomans Land Island off of Martha's Vineyard (Brereton 1602). Ornithologists throughout history have guessed at a late seventeenth century extirpation from Massachusetts. Ebenezer Emmons, the man who compiled the first known Massachusetts bird list in 1833, listed the Whooping Crane as "a rare but regular visitant," but not the Sandhill. The legacy of the bird, though, lived on in the commercial cranberry industry, itself an early nineteenth century Massachusetts phenomenon. The flower of the fruit resembles the head and neck of the crane, and the word cranberry is a corruption of the term "crane berry." This being said, millions of cranberries would be produced in Massachusetts before the next state sighting of a Sandhill Crane.
Atlas 1 Distribution
A Sandhill Crane in any season was cause for excitement during Atlas 1, and breeding was a possibility not even remotely considered. Although there were records of Sandhill Cranes present in the spring and late summer during the first Atlas period, these were strongly concentrated around the southeastern part of the state. As such, they were (rightly) regarded as nothing more than migrant curiosities, having become separated from the great streams of sojourning cranes that migrate each year through the heart of the country. More and more of these formerly irregular visitors appeared as time wore on, and soon the possibility of breeding Sandhill Cranes in Massachusetts did not seem as remote as it once did.
Atlas 2 Distribution and Change
The first Sandhill Cranes to be Confirmed breeding in the Commonwealth were discovered in the Marble Valleys in the village of New Marlborough. A breeding-season sighting in the Worcester Plateau region also suggested that Sandhill Cranes were also prospecting in other areas in the Commonwealth. Wet meadows with abundant agricultural grain should be closely watched in the coming years, especially those in the western part of the state.
Atlas 1 Map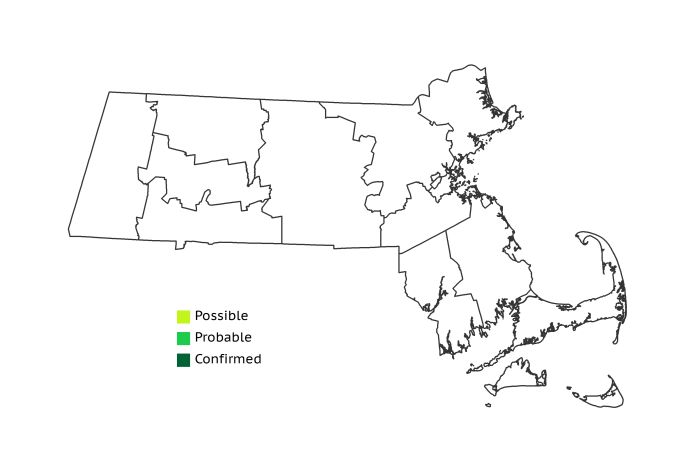 Atlas 2 Map
Atlas Change Map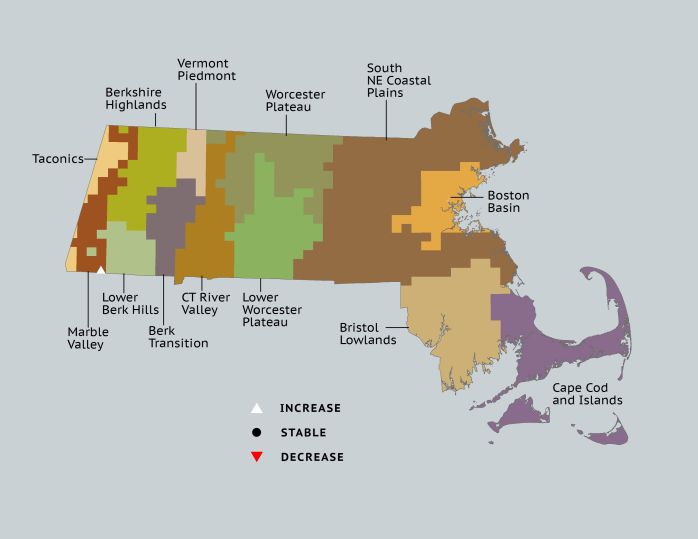 Ecoregion Data
Atlas 1

Atlas 2

Change

Ecoregion

# Blocks

% Blocks

% of Range

# Blocks

% Blocks

% of Range

Change in # Blocks

Change in % Blocks

Taconic Mountains

0

0.0

0.0

0

0.0

0.0

0

0.0

Marble Valleys/Housatonic Valley

0

0.0

0.0

1

2.6

50.0

1

2.6

Berkshire Highlands

0

0.0

0.0

0

0.0

0.0

0

0.0

Lower Berkshire Hills

0

0.0

0.0

0

0.0

0.0

0

0.0

Vermont Piedmont

0

0.0

0.0

0

0.0

0.0

0

0.0

Berkshire Transition

0

0.0

0.0

0

0.0

0.0

0

0.0

Connecticut River Valley

0

0.0

0.0

0

0.0

0.0

0

0.0

Worcester Plateau

0

0.0

0.0

1

1.1

50.0

0

0.0

Lower Worcester Plateau

0

0.0

0.0

0

0.0

0.0

0

0.0

S. New England Coastal Plains and Hills

0

0.0

0.0

0

0.0

0.0

0

0.0

Boston Basin

0

0.0

0.0

0

0.0

0.0

0

0.0

Bristol and Narragansett Lowlands

0

0.0

0.0

0

0.0

0.0

0

0.0

Cape Cod and Islands

0

0.0

0.0

0

0.0

0.0

0

0.0

Statewide Total

0

0.0

0.0

2

0.2

100.0

1

0.1