Clapper Rail
---
Rallus longirostris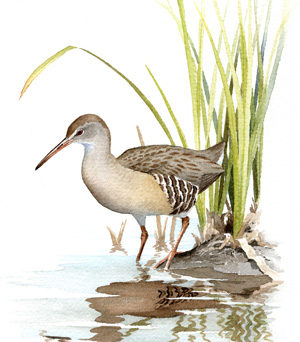 Very local, trend not established
"I've had marsh hens fried, smothered, baked, fricasseed in Jim Beam, and boiled. I think I can truly tell you what a spoiled sea gull would taste like. Some people swear by them. I've never consumed enough spirits to think them good." Charley Webb, Beaufort Tribune
Clapper Rails have been regular breeders in marshes along the Atlantic Coast for years, although the center of their breeding range is well to our south. When their numbers are low they often pass unseen, even when specifically sought. As breeders they are relative newcomers to the Bay State; and, while they are far from numerous, they seem to have maintained themselves in small numbers since the 1950s. Always difficult to see, Clapper Rails are most often heard at dusk or dawn in salt marshes along the coast, which is also the only habitat where they are known to breed in Massachusetts.
Historic Status
The Clapper Rail, or Salt-marsh Hen, as it was long ago known, is a bird with a specifically dated history in Massachusetts. An accidental visitor in Massachusetts throughout most of the nineteenth century, one was presented to the Boston Society of Natural History on August 7, 1850. Thirteen years later a Clapper Rail was found in Dedham, and the following year another was located in Taunton. In Boston Harbor "one flew aboard a vessel, and was captured, May 4, 1875, and is now mounted in the collection of the Boston Society of Natural History," (Howe & Allen 1901). And so it went for decades. Finally, after a hundred years of sending scouts north, Clapper Rails began breeding in Massachusetts in the 1950s (Petersen & Meservey 2003).
Atlas 1 Distribution
Increasing slightly ever since then, breeding Clapper Rails were present, but scarce, during Atlas 1. The Coastal Plains had three contiguous Possible blocks at Plum Island. Though the birds may well have been breeding there at that time, as is so often the case with rails the only evidence of their presence was their voices. The sole Atlas 1 Confirmation came from Falmouth in the Cape and Islands region. At other sites, especially the salt marshes of Nantucket, breeding was implied by their continued calling throughout the breeding season, however Confirmation eluded the Atlas surveyors there.
Atlas 2 Distribution and Change
Clapper Rails during Atlas 2 remained rare and highly local in their breeding activity. Breeding evidence was recorded in only one Coastal Plains block, predictably at Plum Island, but rails also appeared in new and unexpected places. The salt marshes surrounding downtown Boston and Logan Airport in the Boston Basin hosted breeding Clapper Rails during the Atlas 2 period, and the Bristol/Narragansett Lowlands also reported Confirmed breeding at a Dartmouth wetland. Although Cape Cod and the Islands did not report any Confirmed nesting, the concentration of occupied blocks on the Outer Cape especially suggested that this area would be worth monitoring for future Clapper Rail activity.
Atlas 1 Map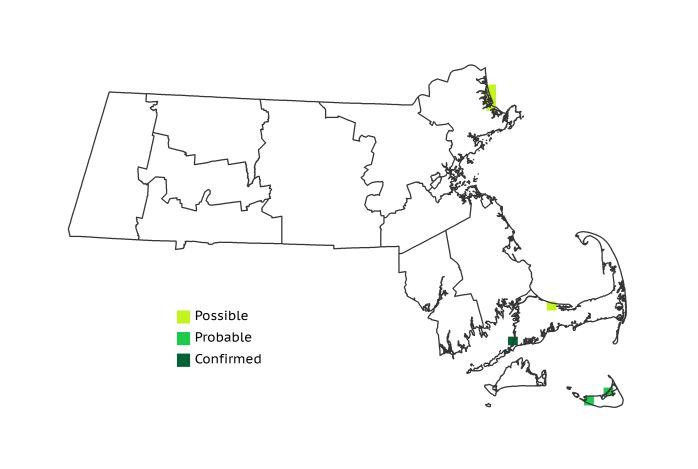 Atlas 2 Map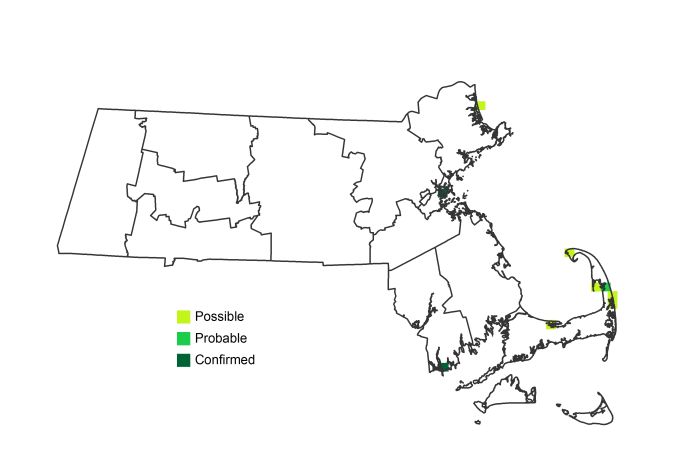 Atlas Change Map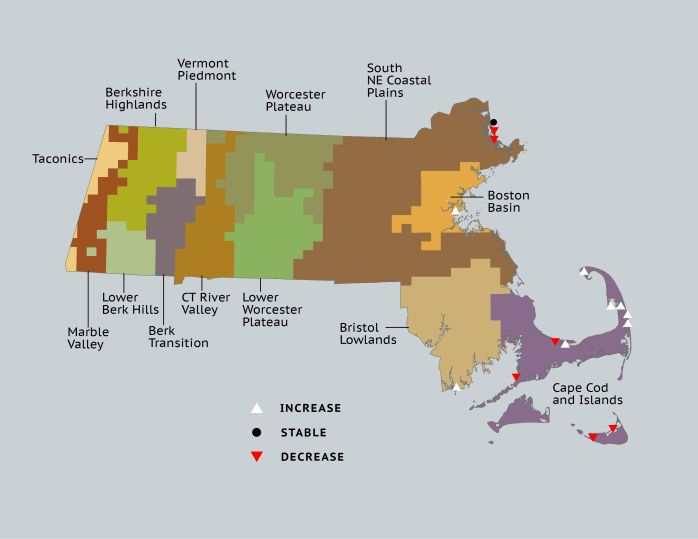 Ecoregion Data
Atlas 1

Atlas 2

Change

Ecoregion

# Blocks

% Blocks

% of Range

# Blocks

% Blocks

% of Range

Change in # Blocks

Change in % Blocks

Taconic Mountains

0

0.0

0.0

0

0.0

0.0

0

0.0

Marble Valleys/Housatonic Valley

0

0.0

0.0

0

0.0

0.0

0

0.0

Berkshire Highlands

0

0.0

0.0

0

0.0

0.0

0

0.0

Lower Berkshire Hills

0

0.0

0.0

0

0.0

0.0

0

0.0

Vermont Piedmont

0

0.0

0.0

0

0.0

0.0

0

0.0

Berkshire Transition

0

0.0

0.0

0

0.0

0.0

0

0.0

Connecticut River Valley

0

0.0

0.0

0

0.0

0.0

0

0.0

Worcester Plateau

0

0.0

0.0

0

0.0

0.0

0

0.0

Lower Worcester Plateau

0

0.0

0.0

0

0.0

0.0

0

0.0

S. New England Coastal Plains and Hills

3

1.1

42.9

1

0.4

11.1

-2

-0.9

Boston Basin

0

0.0

0.0

1

1.8

11.1

1

1.8

Bristol and Narragansett Lowlands

0

0.0

0.0

1

0.9

11.1

1

1.0

Cape Cod and Islands

4

2.9

57.1

6

4.2

66.7

2

1.7

Statewide Total

7

0.7

100.0

9

0.9

100.0

2

0.2