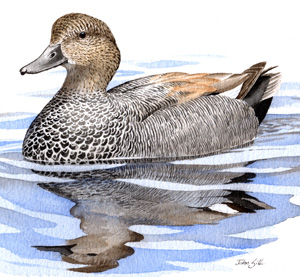 "There seems to be a difference of opinion among sportsmen as to the food value of the gadwall; some consider it a close second to the mallard and others say it is hardly fit to eat…" – Arthur Cleveland Bent, Life Histories of North American Wild Fowl
Regardless of differing opinions about its palatability, the subtly marked Gadwall has long been hunted in much of the US. Although Gadwalls may lack the bright hues of many other ducks, their subdued aesthetic has won them admiration from birders and sportsmen alike. A visitor (and sometimes intentional transplant) from the West, the Gadwall has likely never been a common breeding species in Massachusetts. Today, Gadwalls are regular but highly local breeders in the state, concentrated mostly at coastal freshwater ponds and a few inland sites.
Historic Status
Known colloquially as "Gray Ducks," Gadwalls may have been inconsistently reported during the early part of the twentieth century. Plymouth County hunters, when questioned, remembered taking quite a few "Gray Ducks" but never knew them as Gadwalls. In point of fact, we may never know precisely how abundant the species once was in Massachusetts. We do know, however, that suggestions made by Edward Howe Forbush in the 1920s that the species might be a good breeder in the state were apparently taken to heart because introductions were made at Great Meadows National Wildlife Refuge in Concord and at the Felix Neck Wildlife Sanctuary on Martha's Vineyard in 1971 in order to try and establish local breeding populations. Small groups subsequently established themselves at both the Parker River National Wildlife Refuge and the Monomoy National Wildlife Refuge.
Atlas 1 Distribution
The few breeding Gadwalls that were present during Atlas 1 were universally found east of the Worcester Plateau. Aside from the introduced birds at Great Meadows, all of the state's breeding Gadwalls were found right along the coast. Several blocks in the northern Coastal Plains supported breeding Gadwalls, mostly clustered around Parker River National Wildlife Refuge. The Cape and Islands accounted for the remaining Gadwall records in Atlas 1, with 1 block each at Monomoy and the Elizabeth Islands and 3 around Felix Neck Wildlife Sanctuary on Martha's Vineyard.
Atlas 2 Distribution and Change
Not much has changed for Gadwalls in Massachusetts since Atlas 1, when they were detected in 14 blocks. Atlas 2 surveys found them in 16 blocks, with a similar number of Confirmations as in Atlas 1. They have been persistent breeders in Essex County, and there were some new reports from the Bristol Lowlands as well as Nantucket. Their absence from Martha's Vineyard seems to offset the gains from the new breeders on Nantucket. It is also possible that as a rare and very low -density breeder it may often be missed during Atlas surveys. The Gadwall is an interesting "boutique" breeding species in the state, but it is worth noting that this species is apparently persisting as a breeder without new releases.
Atlas 1 Map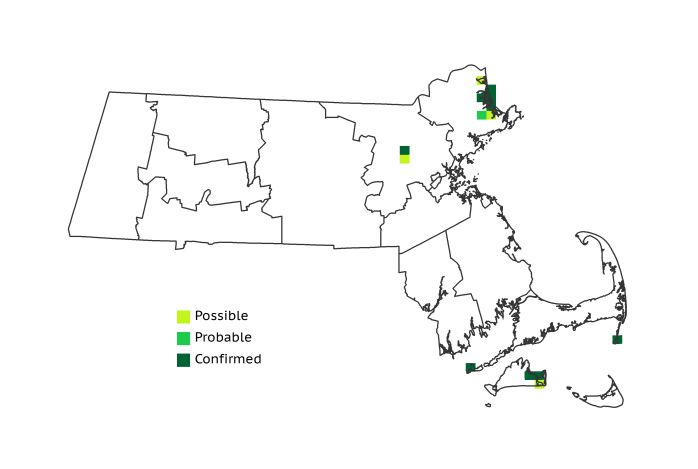 Atlas 2 Map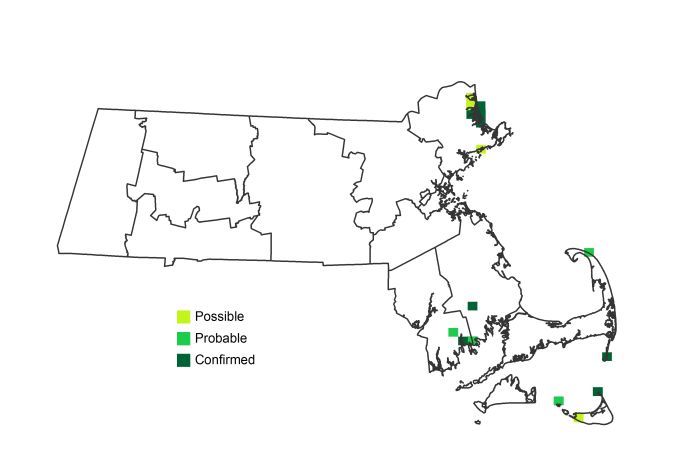 Atlas Change Map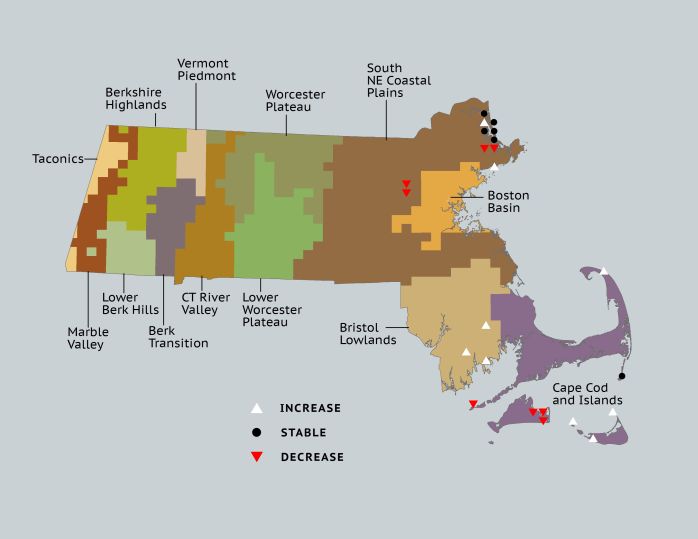 Ecoregion Data
Atlas 1

Atlas 2

Change

Ecoregion

# Blocks

% Blocks

% of Range

# Blocks

% Blocks

% of Range

Change in # Blocks

Change in % Blocks

Taconic Mountains

0

0.0

0.0

0

0.0

0.0

0

0.0

Marble Valleys/Housatonic Valley

0

0.0

0.0

0

0.0

0.0

0

0.0

Berkshire Highlands

0

0.0

0.0

0

0.0

0.0

0

0.0

Lower Berkshire Hills

0

0.0

0.0

0

0.0

0.0

0

0.0

Vermont Piedmont

0

0.0

0.0

0

0.0

0.0

0

0.0

Berkshire Transition

0

0.0

0.0

0

0.0

0.0

0

0.0

Connecticut River Valley

0

0.0

0.0

0

0.0

0.0

0

0.0

Worcester Plateau

0

0.0

0.0

0

0.0

0.0

0

0.0

Lower Worcester Plateau

0

0.0

0.0

0

0.0

0.0

0

0.0

S. New England Coastal Plains and Hills

9

3.3

64.3

7

2.5

43.8

-2

-0.9

Boston Basin

0

0.0

0.0

0

0.0

0.0

0

0.0

Bristol and Narragansett Lowlands

0

0.0

0.0

4

3.5

25.0

3

3.0

Cape Cod and Islands

5

3.7

35.7

5

3.5

31.3

0

0.0

Statewide Total

14

1.4

100.0

16

1.5

100.0

1

0.1