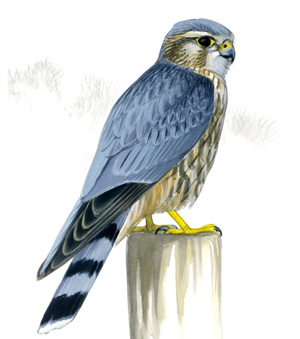 Very local, trend not established
"Of Merlin wise I learned a song— / Sing it low, or sing it loud, / it is mightier than the strong, / and punishes the proud." – Ralph Waldo Emerson, "Merlin's Song"
What Merlins may lack in stature, they more than make up for in spirit. They are valued by falconers for their perceived courage and heart as well as their aerial maneuverability. The common name of the Merlin has nothing to do with King Arthur's famous mage; rather, it likely originates from the Old French word for this species – esmerillon. Long familiar as a migrant in the state, especially along the coast, these falcons of the taiga have recently made the unlikely leap to also become breeding birds at several Massachusetts locations, as well as moving in to surrounding states in similarly low numbers.
Historic Status
History: In the state prior to 1900, only one man claimed to have found the nest and eggs of a Merlin, or Pigeon Hawk, as it was then known. That man, James Gatley, aka The Hermit of Hyde Park, brought it out of the forest with the parents included (Minot 1877), but ornithologists remained dubious. Reginald Heber Howe and Glover Morrill Allen in 1901 stated that "Notwithstanding statements to the contrary, there is no authentic record of the nesting of this bird in Massachusetts." Forbush echoed these sentiments in the mid-1920s (Forbush 1927). It maintained its status as a migrant and winter lingerer well into the twentieth century.
Atlas 1 Distribution
Atlas 1: At the time of Atlas 1, the boreal breeding population of Merlins was still far from making a breeding landfall in Massachusetts, even though the species was well known as a migrant and occasional winter resident.
Atlas 2 Distribution and Change
Atlas 2: The first-ever Confirmed instance of breeding Merlins in the Commonwealth didn't come until the second Atlas period when a nest was found on Martha's Vineyard. Slowly but surely, more reports of breeding Merlins trickled in for the remainder of the second Atlas period. The Marble Valleys hosted 4 blocks with evidence of breeding Merlins, including one Confirmation. In the Connecticut River Valley, there was a Confirmed nest in Northampton and Probable breeding activity just one block south. Though Merlins were as close to absent as they could be in the eastern half of the state, the Confirmation on Martha's Vineyard and a Possible block on Nantucket indicate that coastal areas may be further colonized by Merlins in the coming years.
Atlas 1 Map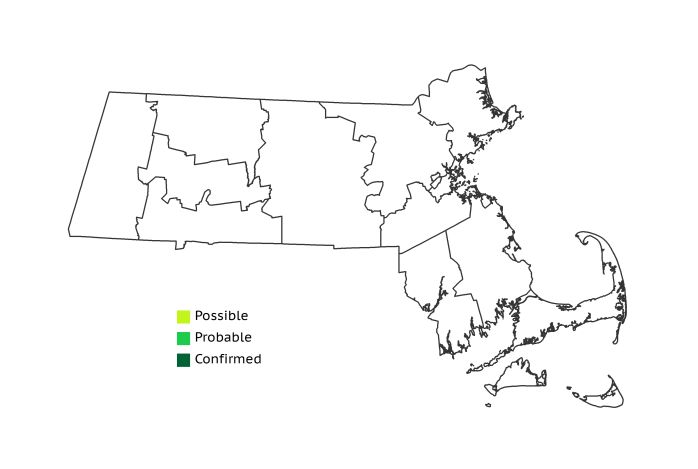 Atlas 2 Map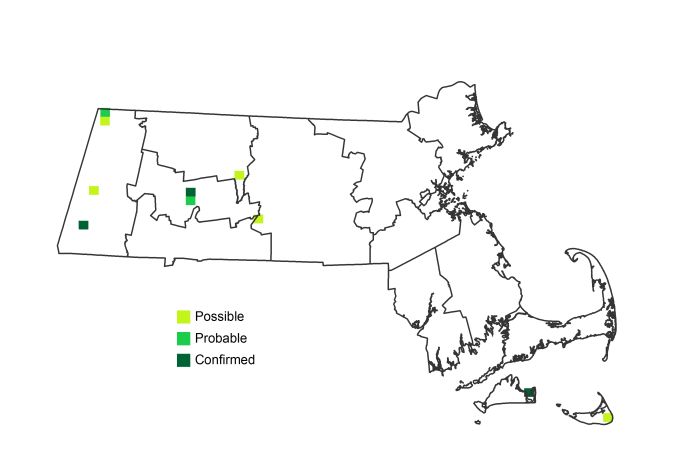 Atlas Change Map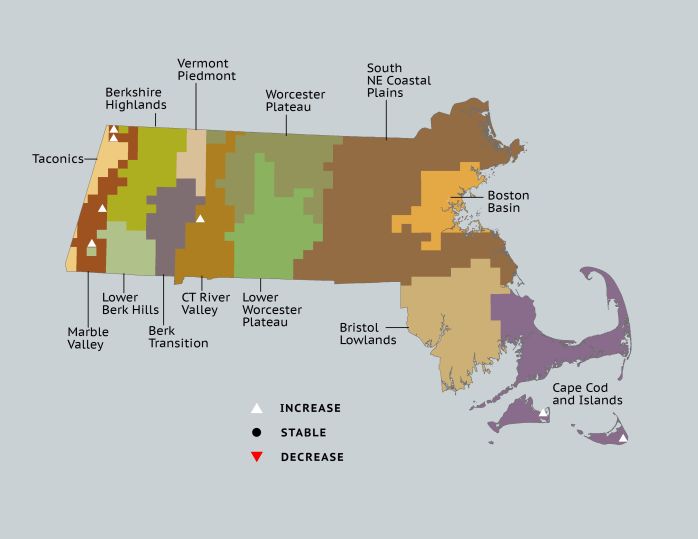 Ecoregion Data
Atlas 1

Atlas 2

Change

Ecoregion

# Blocks

% Blocks

% of Range

# Blocks

% Blocks

% of Range

Change in # Blocks

Change in % Blocks

Taconic Mountains

0

0.0

0.0

0

0.0

0.0

0

0.0

Marble Valleys/Housatonic Valley

0

0.0

0.0

4

10.3

40.0

4

10.3

Berkshire Highlands

0

0.0

0.0

0

0.0

0.0

0

0.0

Lower Berkshire Hills

0

0.0

0.0

0

0.0

0.0

0

0.0

Vermont Piedmont

0

0.0

0.0

0

0.0

0.0

0

0.0

Berkshire Transition

0

0.0

0.0

0

0.0

0.0

0

0.0

Connecticut River Valley

0

0.0

0.0

2

3.1

20.0

1

2.1

Worcester Plateau

0

0.0

0.0

1

1.1

10.0

0

0.0

Lower Worcester Plateau

0

0.0

0.0

1

1.3

10.0

0

0.0

S. New England Coastal Plains and Hills

0

0.0

0.0

0

0.0

0.0

0

0.0

Boston Basin

0

0.0

0.0

0

0.0

0.0

0

0.0

Bristol and Narragansett Lowlands

0

0.0

0.0

0

0.0

0.0

0

0.0

Cape Cod and Islands

0

0.0

0.0

2

1.4

20.0

2

1.7

Statewide Total

0

0.0

0.0

10

1.0

100.0

7

0.8