Red-shouldered Hawk
---
Buteo lineatus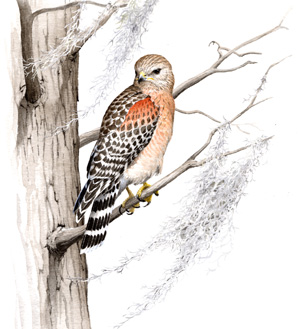 Fairly widespread and strongly increasing
"There is no more pleasing spring sound than the lusty scream of the 'Red-shoulder' as it rings through the bare leafless woods as they stand up straight and brown against the pale blue sky of April." – Edward Howe Forbush, Birds of Massachusetts and Other New England States
In spring, as hopeful little creatures emerge from their winter haunts to forage on the new greenery, some will inevitably be eaten in their turn by Red-shouldered Hawks. Red-shouldered Hawks are among the earliest of our migrant species to return to New England in the spring; in fact, some of them remain with us all winter long. They are not as ubiquitous as their Red-tailed cousins, but there are still many that call the Bay State home. Usually encountered near areas of wet woods, Red-shouldered Hawks readily take fish and amphibians in addition to more typical hawk fare such as small mammals and occasionally birds.
Historic Status
As a species preferring moist forested habitats, Red-Shouldered Hawks have likely benefited from the presence of beavers. The early extirpation of the latter in the mid-1700s caused a dearth of optimum Red-shoulder habitat in the state. Accordingly, Red-Shouldered Hawks were not known to be numerous in the state for the next century. The Secretary of the Massachusetts Board of Agriculture reported three Red-shouldered Hawk specimens in the State Cabinet in 1859 (Flint 1859) and by the 1870s sightings were becoming more regular. After 1885 the population grew to the point that Forbush considered them common in the 1920s (Forbush 1927). With the return of beavers to the Berkshires in the late 1920s, the future looked even more optimistic, but post-World War II development, in part, caused the bird to once again decline in Massachusetts.
Atlas 1 Distribution
During Atlas 1, the Red-shouldered Hawk population was just beginning to show the first signs of recovery after this latest decline. Thanks to the increasing presence of mature forest and returning beaver populations, every ecoregion west of the Connecticut River Valley posted a 25% block occupancy or better in Atlas 1. The Connecticut River Valley itself had comparatively few Red-shouldered Hawks. The Worcester Plateau was generously peppered with Red-shouldered Hawks, and the Lower Worcester Plateau, somewhat less so. Red-shouldered Hawks began to show early signs of adaptation to suburbia by their presence in the Coastal Plains and especially in the Bristol/Narragansett Lowlands. The Boston Basin and the Cape and Islands had only a handful of occupied blocks.
Atlas 2 Distribution and Change
By the time of Atlas 2, Red-shouldered Hawks were increasing their footprint across the state. Though the species remained relatively sparsely distributed in the extreme western regions, the Berkshire Highlands and Berkshire Transition regions showed a notable uptick in Red-shoulder breeding activity. The Connecticut River Valley again had few breeding Red-shouldered Hawks, but there was an aggregation of breeding records around the Quabbin area at the interface of the Worcester and Lower Worcester Plateaus. The species also became more widespread in the Coastal Plains, appearing anew in a substantial 27% of blocks. The biggest change from the species' Atlas 1 distribution undoubtedly occurred in the Bristol/Narragansett Lowlands, where Red-shouldered Hawks were found in 50 new blocks (50% of the region). Red-shouldered Hawks remained mostly absent on Cape Cod and the Islands.
Atlas 1 Map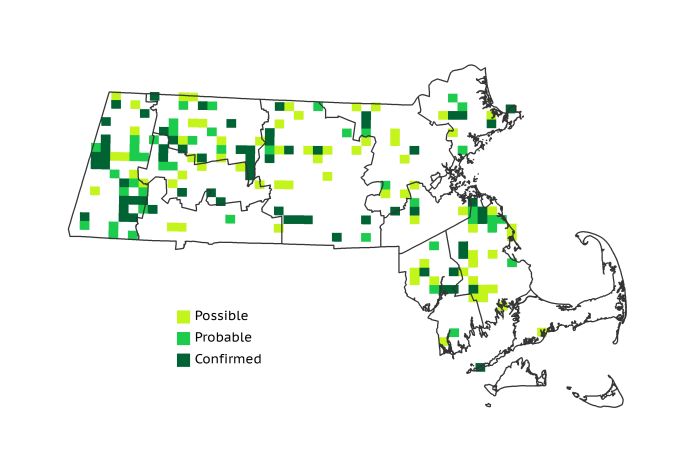 Atlas 2 Map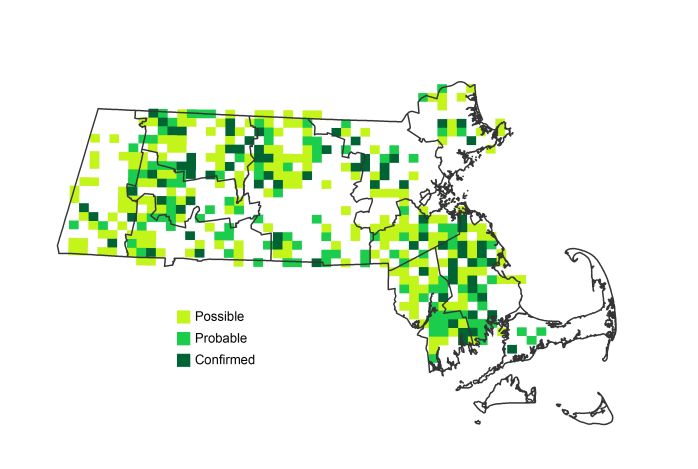 Atlas Change Map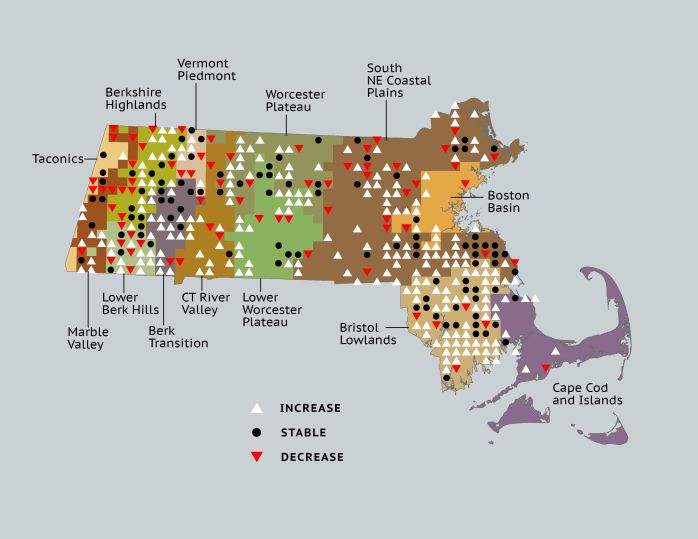 Ecoregion Data
Atlas 1

Atlas 2

Change

Ecoregion

# Blocks

% Blocks

% of Range

# Blocks

% Blocks

% of Range

Change in # Blocks

Change in % Blocks

Taconic Mountains

4

25.0

2.2

3

12.0

0.7

-1

-6.7

Marble Valleys/Housatonic Valley

11

28.2

6.1

13

33.3

3.2

2

5.1

Berkshire Highlands

22

40.0

12.2

30

54.5

7.3

7

13.2

Lower Berkshire Hills

12

42.9

6.6

18

58.1

4.4

4

14.8

Vermont Piedmont

7

41.2

3.9

12

70.6

2.9

1

8.3

Berkshire Transition

10

26.3

5.5

30

75.0

7.3

13

41.9

Connecticut River Valley

7

12.5

3.9

18

27.7

4.4

6

12.5

Worcester Plateau

20

25.6

11.0

53

60.2

13.0

14

29.2

Lower Worcester Plateau

12

16.2

6.6

31

38.8

7.6

12

22.2

S. New England Coastal Plains and Hills

45

16.7

24.9

105

37.1

25.7

41

18.1

Boston Basin

2

3.6

1.1

10

17.9

2.4

8

14.5

Bristol and Narragansett Lowlands

25

23.6

13.8

73

64.0

17.8

45

44.6

Cape Cod and Islands

4

2.9

2.2

13

9.0

3.2

8

6.7

Statewide Total

181

18.7

100.0

409

39.4

100.0

160

19.3
Notes
The Red-shouldered Hawk shows significant increasing Breeding Bird Survey trends, both in the mid-Atlantic region and the whole Eastern US.
Breeding Bird Survey Chart