Yellow-crowned Night-Heron
---
Nyctanassa violacea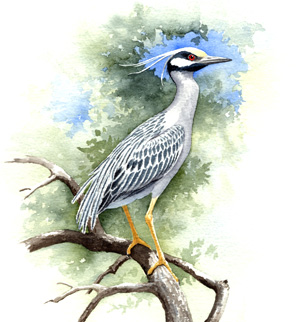 Very local, trend not established
"Uneasy lies the head that wears a crown." – William Shakespeare, Henry IV
Unlike the Black-crowned Night-Heron that has long haunted the shores of Massachusetts, the Yellow-crowned Night-Heron has always been a historical rarity as a breeder. Massachusetts is at the northern extreme of this species' breeding range, and few, if any, individuals choose to nest in the Bay State in any given year. Yellow-crowned Night-Herons are unique among our herons in that they tend to be prey specialists. Most wading bird species will consume almost anything they can catch, but Yellow-crowned Night-Herons show a marked preference for crustaceans, especially crabs. Because of this, they can most often be seen at the shoreline, foraging for crunchy treats during the hours of low tide.
Historic Status
Yellow-crowned Night-Herons bore the epithet "accidental visitant" for many years before they attempted to nest in Massachusetts. The earliest sighting of the species in the state may have been in Ashland in 1857, and the first suspicion of breeding came when a young bird was taken in Provincetown in the presence of an adult male of the species in July 1891 (Forbush 1925). The Yellow-crowned Night-Heron made a northward expansion of its breeding range from 1925 to 1960, and made a breeding landfall in Massachusetts in 1940 and 1941 when a pair bred at Chatham (Petersen & Meservey 2003), although records remained sparse for the next thirty years.
Atlas 1 Distribution
Typically colonial breeders, Yellow-crowned Night-Herons nested in Massachusetts only a handful of times prior to Atlas 1, and always as solitary pairs. This trend seemed to continue as Yellow-crowns spurned the mixed breeding colonies where Black-crowned Night-Herons typically nest, instead appearing singly or in pairs near the coast in the southeastern part of the state. Sightings at Plum Island in the Coastal Plains, Westport in the Bristol/Narragansett Lowlands, and on the sandy peninsula of Coatue on Nantucket were suggestive of breeding but were not conclusive.
Atlas 2 Distribution and Change
Yellow-crowned Night-Herons finally gave up their clandestine ways and allowed eyes to fall on their nesting habits in Massachusetts in 2 separate bocks during Atlas 2, once on the eastern end of Martha's Vineyard and once on the western end of Nantucket. There were additional scattered sightings hither and yon during Atlas 2, but no other Confirmations were recorded anywhere in the state.
Atlas 1 Map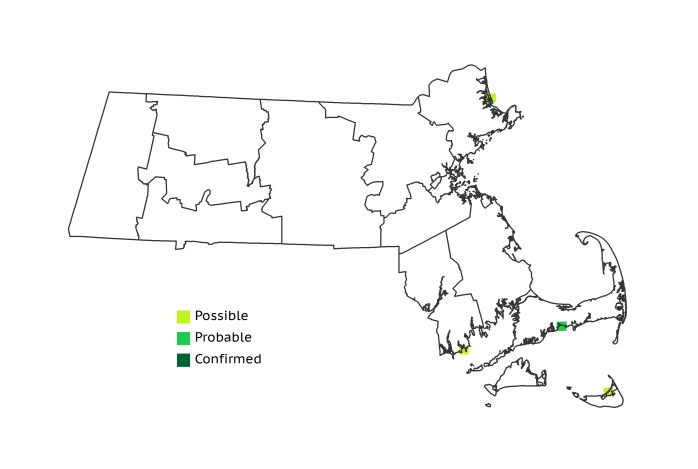 Atlas 2 Map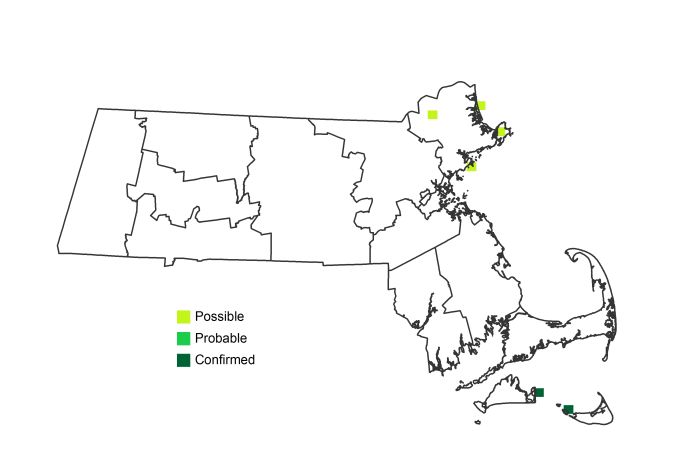 Atlas Change Map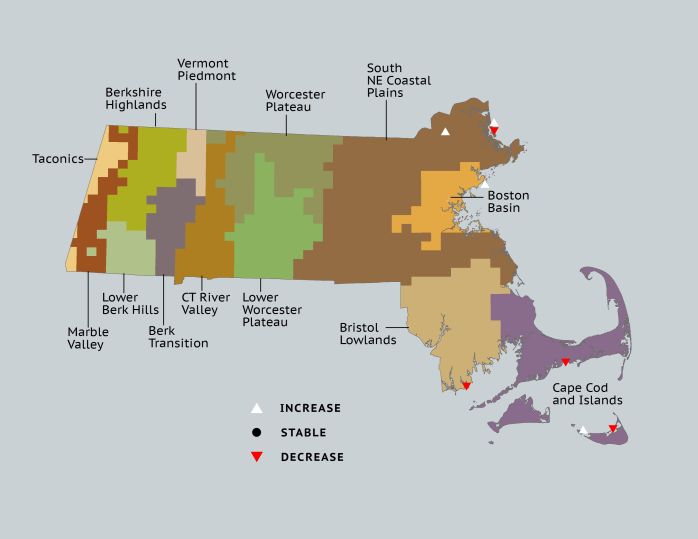 Ecoregion Data
Atlas 1

Atlas 2

Change

Ecoregion

# Blocks

% Blocks

% of Range

# Blocks

% Blocks

% of Range

Change in # Blocks

Change in % Blocks

Taconic Mountains

0

0.0

0.0

0

0.0

0.0

0

0.0

Marble Valleys/Housatonic Valley

0

0.0

0.0

0

0.0

0.0

0

0.0

Berkshire Highlands

0

0.0

0.0

0

0.0

0.0

-2

-3.8

Lower Berkshire Hills

0

0.0

0.0

0

0.0

0.0

0

0.0

Vermont Piedmont

0

0.0

0.0

0

0.0

0.0

0

0.0

Berkshire Transition

0

0.0

0.0

0

0.0

0.0

0

0.0

Connecticut River Valley

0

0.0

0.0

0

0.0

0.0

0

0.0

Worcester Plateau

0

0.0

0.0

0

0.0

0.0

0

0.0

Lower Worcester Plateau

0

0.0

0.0

0

0.0

0.0

0

0.0

S. New England Coastal Plains and Hills

1

0.4

25.0

3

1.1

50.0

1

0.4

Boston Basin

0

0.0

0.0

1

1.8

16.7

1

1.8

Bristol and Narragansett Lowlands

1

0.9

25.0

0

0.0

0.0

0

0.0

Cape Cod and Islands

2

1.5

50.0

2

1.4

33.3

-2

-1.7

Statewide Total

4

0.4

100.0

6

0.6

100.0

-2

-0.2