Sesachacha Heathlands Wildlife Sanctuary
Explore two of Massachusetts' rarest habitats—coastal heathland and sandplain grassland—at Sesachacha Heathlands Wildlife Sanctuary on the eastern side of Nantucket. Sesachacha Pond, the largest body of brackish water on the island and located within the sanctuary, is magnet for 300 recorded bird species, including northern harriers and eastern towhees.
Explore Our Trails
Explore Our Trails
Walk along unpaved sandy cart paths that take you through a prairie-like landscape with little bluestem grass, bayberry, bearberry, and lowbush blueberry. Plan your visit >
Program Catalog
Programs & Classes
Mass Audubon's nearby wildlife sanctuaries offer a wide variety of programs for all ages. There's something for everyone! Find a program >
Sanctuary News & Events
After finding a dead bat that wasn't typically found on Nantucket, researchers began monitoring the island's bat population. They discovered that this federally threatened bat species wasn't so rare on Nantucket after all.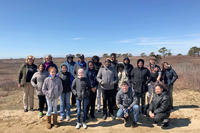 As part of a new partnership between Mass Audubon and UMass Boston, 12 high school students from Boston schools who are participating in the Urban Scholars Program visited the UMass Boston Nantucket Field Station to meet with local scientists and environmentalists.
More News