News & Events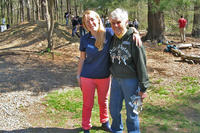 Special Event November 3, 2019
Come one, come all! Bring the whole family to enjoy an afternoon of environmental stewardship as we chip trails, work in the Children's Garden, the Sun/Moon Herb Garden, and more.
Special Event October 9, 2019
All are invited to this free reception celebrating the new exhibition on display in the Habitat Gallery this November. Enjoy an artist's talk, light refreshments, and beautiful art!
Habitat is excited to announce that we have a new Electric Vehicle (EV) charging station now open for public use at the sanctuary!