Endicott Wildlife Sanctuary
We're Solar Powered
Check out the energy production from our 6.9 kW array which provides electricity for our North Shore Field Office.
Education Programs
Authentic science experiences for students in first grade to graduate school! Our specialties are coastal topics, invasive species, and stewardship.
Sanctuary News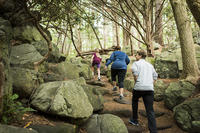 Mass Audubon's North Shore sanctuaries are proud to offer free admission to active-duty U.S. military personnel and their families through Labor Day thanks to the Blue Star Museums program.
More News