News & Events
Wheelabrator Millbury sponsors free sanctuary admission for Millbury residents four times a year. Join us once each season and explore all that Broad Meadow Brook has to offer—for free! Next event is October 10, 2020.
The Blackstone River Coalition (BRC) is in need of volunteer citizen science water quality monitors (WQM) to collect data at sites in the headwaters region of the watershed. No prior experience needed—we'll train you! Seeking volunteers for 2020 testing dates.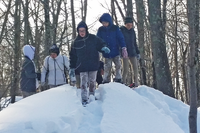 The new Dr. Deirdre Loughlin Fund will provide essential support that allows us to connect Broad Meadow Brook with students attending Worcester Public Schools.