News & Events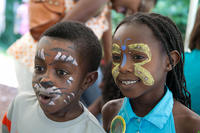 Special Event August 14, 2021
Celebrate butterflies with a day of educational fun at the sanctuary, where these amazing insects fly free in their natural habitats! Enjoy nature walks, live caterpillar exhibits, children's activities, and much more.
The Blackstone River Coalition (BRC) is in need of volunteer water quality monitors (WQM) to collect data at sites in the headwaters region of the watershed. No prior experience needed—we'll train you! Seeking volunteers for 2021 testing dates.
At Broad Meadow Brook Nature Day Camp in Worcester, campers ages 4.5–16 can tap into their natural curiosity by investigating different habitats, ecosystems, and wildlife species at our 430-acre sanctuary. Registration is open!