News & Events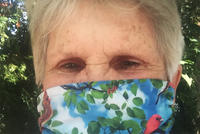 Janice Jorgensen is a semi-retired Hadley resident, an aspiring birder, and a creative strategist who has helped Arcadia grow and thrive over the years. Now, she wants to spread the word to others age 70 1/2 and older about a little-known way of supporting charitable causes—Required Minimum Distributions (RMD).
On eBird, Arcadia and Quabbin Park are tied for most bird species seen over the years in all of central and western Massachusetts—241 species. Of the 100 eBird hotspots in Hampshire County, Arcadia is one of only six locations that have more than 200 species observed.
Arcadia has been an ecological gem and educational innovator in the Pioneer Valley since 1944. You're invited to celebrate everything that's been accomplished in the last 75 years, and help us look toward to a bright future for the generations to come!
Subscribe to Arcadia emails