News & Project Updates
Mass Audubon successfully conserves additional land all the time—from stands of old growth forest in the Berkshires to coastal habitats on Cape Cod to the precious salt marsh of the North Shore—and every type of habitat in between.
Recent Success Stories
Published on July 2, 2021
What's big, green, near lots of people, and will now be here forever? The answer is the Bear Hole landscape—a beautiful open space of 1,400 acres, comprised of intact forest and diverse habitats in West Springfield at the southern end of the Connecticut River Valley.
Published on July 1, 2021
With support from the City of Northampton, Mass Audubon added 16 acres of state-designated "Critical Natural Landscape & Core Habitat" to Arcadia Wildlife Sanctuary in the Connecticut River Valley.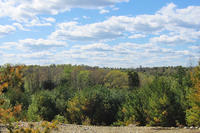 Published on June 30, 2021
Whetstone Wood Wildlife Sanctuary, Mass Audubon's largest wildlife sanctuary, just added another 20 acres of prime forest and wooded wetlands that bridges the protected land from west to east across New Salem Road in Wendell.
More News
Success Stories - Previous Years
Previous Years
---
2020
Projects and land conservation success stories from 2020. Read more >
2019
Projects and land conservation success stories from 2019. Read more >
2013-2018
Projects and land conservation success stories from 2013-2018. Read more >