Regional News
Check here for the latest news from Mass Audubon wildlife sanctuaries around the state.
Connecticut River Valley Events
Special Event CANCELLED - March 28, 2020
CANCELLED. An enchanted family evening celebrating one of nature's most spectacular spring events—the annual migration of thousands of amphibians to the vernal pools in which they were born.
Connecticut River Valley News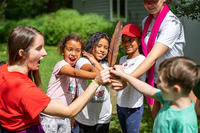 At Arcadia Nature Day Camp in Easthampton, campers ages 4–16 spend time discovering special places, meeting new friends, playing games, and having fun outside. Registration now open for summer 2020!
Arcadia has been an ecological gem and educational innovator in the Pioneer Valley since 1944. You're invited to celebrate everything that's been accomplished in the last 75 years, and help us look toward to a bright future for the generations to come!