Regional News
Check here for the latest news from Mass Audubon wildlife sanctuaries around the state.
Central Events
Special Event August 12, 2023
Celebrate butterflies with a day of educational fun at the sanctuary, where these amazing insects fly free in their natural habitats! Enjoy nature walks, live caterpillar exhibits, children's activities, and much more.
Central News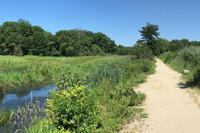 The sanctuary's new ecological project seeks to improve water quality, flood storage capacity, and native wildlife habitat value while reducing flood risk in adjacent residential neighborhoods.
Explore over 12 miles of sanctuary trails on snowshoes and enjoy the beauty and peacefulness of the winter woods. Bring your own snowshoes, or rent a pair from us!