Regional News
Check here for the latest news from Mass Audubon wildlife sanctuaries around the state.
Central Massachusetts Events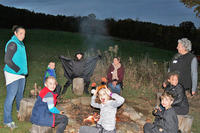 Special Event October 26, 2019
Soak in the sounds of the night on a guided evening hike and hayride! Then warm up by the bonfire and enjoy some family-friendly Halloween tricks & treats.
Central Massachusetts News