Regional News
Check here for the latest news from Mass Audubon wildlife sanctuaries around the state.
Central Massachusetts Events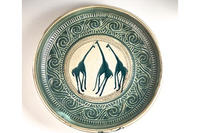 Special Event January 26, 2020
Enjoy a free reception and the opportunity to meet artist Ann Schunior, whose pottery is on display in the Gallery this winter.
Special Event April 18, 2020
Meet Finch, Monarca, Willow, and the rest of Wachusett Meadow's flock! Enjoy sheep shearing demonstrations, local vendors, crafters, kid's activities, and more.
Central Massachusetts News