Regional News
Check here for the latest news from Mass Audubon wildlife sanctuaries around the state.
South of Boston Events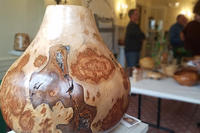 Special Event December 7, 2019
Come shop for unique and locally handmade gifts in a relaxed atmosphere—no hustling or bustling required! Enjoy free admission, cider, snacks, craft demonstrations, a Discovery Room for the kids, and more.
South of Boston News