Regional News
Check here for the latest news from Mass Audubon wildlife sanctuaries around the state.
South of Boston Events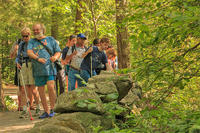 Special Event June 6, 2020
On National Trails Day, come celebrate the sanctuary's brand-new universally accessible trail! People of all ages and abilities can enjoy a beautiful hike at this free event.
South of Boston News