Regional News
Check here for the latest news from Mass Audubon wildlife sanctuaries around the state.
South of Boston Events
Special Event May 9, 2019
The first-ever South Shore Climate Change Symposium is a full-day event featuring overviews of current research topics related to climate change and its impacts on areas such as sea level rise, ocean acidification, changes in precipitation, and more.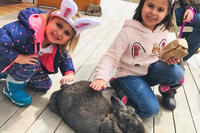 Special Event April 20, 2019
In this annual eggs-travaganza, children get to dye eggs with natural dyes, create a bird nest, match different eggs to the animals that laid them, meet live rabbits, and search the sanctuary for hidden eggs! Allergen-friendly.
South of Boston News