Regional News
Check here for the latest news from Mass Audubon wildlife sanctuaries around the state.
North Shore Events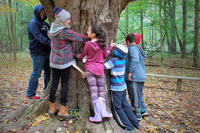 Special Event November 23, 2019
Journey back in time with Mass Audubon and the Topsfield Historical Society! Enjoy a child-friendly guided hike with hands-on games and activities to learn about the people and wildlife who have called these forests home.
North Shore News