Regional News
Check here for the latest news from Mass Audubon wildlife sanctuaries around the state.
North Shore News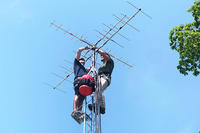 Ipswich River has joined the Motus Wildlife Tracking System! By participating in this exciting collaborative research network, scientists and educators across New England will be able to better understand the ecology and conservation of migratory birds.
Exciting habitat restoration work is happening at Ipswich River! The project will create a large, contiguous field of flowering plants and native grasses and shrubs that will provide highly beneficial habitat for pollinators and birds alike.
We sat down with Kari Sasportas, leader of the award-winning "Big Sit Brant" team at the 2023 Superbowl of Birding, to learn more about their experience at Joppa Flat's annual birding competition.