Regional News
Check here for the latest news from Mass Audubon wildlife sanctuaries around the state.
Boston Events
Special Event Thursdays, July 14-August 18
Teens and preteens will explore connections within the ecosystem and their community.
Special Event September 24, 2022
Bring the family to this free annual festival celebrating all things raptor! Get up close with live animals, enjoy lots of nature activities, laugh along with kid-friendly entertainment, and much more.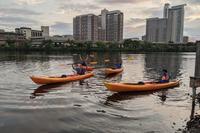 Special Event Fridays, July 15-August 26
Teens and preteens will kayak the Charles River and learn about the nature found in Cambridge.
Boston News