Regional News
Check here for the latest news from Mass Audubon wildlife sanctuaries around the state.
Greater Boston Events
Special Event December 11, 2019
Join Broadmoor at Jack's Abby Brewery in Framingham for food, locally-brewed beer, and thought-provoking discussions about nature with various experts. (December 11: "Imagery & Ecology of NE Land Systems")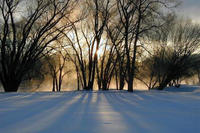 Special Event December 21, 2019
Celebrate the longest night of the year with a moonlit stroll to listen for owls, then head back inside to sip hot apple cider while creating your own solstice art.
Greater Boston News