Regional News
Check here for the latest news from Mass Audubon wildlife sanctuaries around the state.
Berkshires
Opheodrys vernalis. Are they rare or just hard to find? Observations at all three Berkshire Wildlife Sanctuaries reveal no Smooth Green Snakes—and raise concerns for the status of this beautiful species.
See all news for this region
Cape Cod and Islands
Central Massachusetts
Connecticut River Valley
Special Event March 28, 2020
An enchanted family evening celebrating one of nature's most spectacular spring events—the annual migration of thousands of amphibians to the vernal pools in which they were born.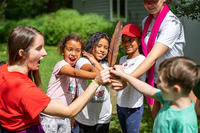 At Arcadia Nature Day Camp in Easthampton, campers ages 4–16 spend time discovering special places, meeting new friends, playing games, and having fun outside. Registration now open for summer 2020!
See all news for this region
Greater Boston
North Shore
South of Boston