Regional News
Check here for the latest news from Mass Audubon wildlife sanctuaries around the state.
Berkshires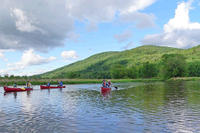 Mass Audubon has signed a Settlement Agreement to expedite the removal of PCBs from the Housatonic River and floodplain in a manner that is protective of human health and the environment.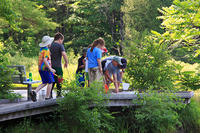 At Berkshire Nature Camp in Lenox, campers ages 3 to 16 have fun and make friends as they discover nature during weekly sessions. Registration now open for summer 2020!
See all news for this region
Cape Cod and Islands
Central Massachusetts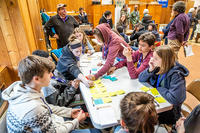 On January 25, Broad Meadow Brook hosted high school students, educators, and Mass Audubon staff at an event designed to give students the tools they need to take action on climate change in their schools and communities.
Special Event April 18, 2020
Meet Finch, Monarca, Willow, and the rest of Wachusett Meadow's flock! Enjoy sheep shearing demonstrations, local vendors, crafters, kid's activities, and more.
Explore over 12 miles of sanctuary trails on snowshoes and enjoy the beauty and peacefulness of the winter woods. Bring your own snowshoes, or rent a pair from us!
See all news for this region
Connecticut River Valley
Special Event March 28, 2020
An enchanted family evening celebrating one of nature's most spectacular spring events—the annual migration of thousands of amphibians to the vernal pools in which they were born.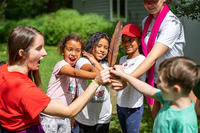 At Arcadia Nature Day Camp in Easthampton, campers ages 4–16 spend time discovering special places, meeting new friends, playing games, and having fun outside. Registration now open for summer 2020!
See all news for this region
Greater Boston
North Shore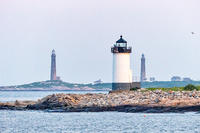 Special Event February 26, 2020
Grab a beer at True North Ale Company, enjoy some food, and listen as historian Paul St. Germain recounts the riveting story of Straitsmouth Island and the 180-year journey that led to its remarkable reopening in 2018.
No matter your age, we offer many ways to take advantage of the age-old tradition of maple sugaring. Take a sugaring tour, enjoy our Spring Flapjack Fling, or bring your class for a school field trip!
The results are in for the Superbowl of Birding XVII, which was held on Saturday, January 25, 2020!
See all news for this region
South of Boston