Regional News
Check here for the latest news from Mass Audubon wildlife sanctuaries around the state.
Berkshires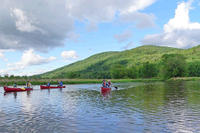 Mass Audubon has signed a Settlement Agreement to expedite the removal of PCBs from the Housatonic River and floodplain in a manner that is protective of human health and the environment.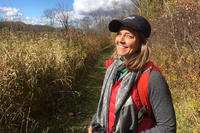 We have been working hard—from our homes—to develop ways to support your efforts to connect with nature closer to your home and to keep us connected to each other even during this time when social distancing is crucial.
See all news for this region
Cape Cod and Islands
Central Massachusetts
Since we can't host the annual Barbara J. Walker Butterfly Festival this year due to COVID-19, we're bringing the festival experience to you—virtually! Get to know New England butterflies, learn about our festival's history, discover fun hands-on activities, and find out how to support these amazing pollinators.
Explore the sanctuary by water and enjoy the peaceful tranquility of Wildlife Pond! For best availability, we ask that you reserve a canoe 1-2 days in advance. Available through October 31.
See all news for this region
Connecticut River Valley
On eBird, Arcadia and Quabbin Park are tied for most bird species seen over the years in all of central and western Massachusetts—241 species. Of the 100 eBird hotspots in Hampshire County, Arcadia is one of only six locations that have more than 200 species observed.
See all news for this region
Greater Boston
North Shore
While schools are closed due to COVID-19, Ipswich River's early childhood educators are finding ways to connect with their preschool students (and families) by using familiar routines and focusing on the learning and comfort that can be found outdoors.
Beginning August 18, families are invited to join us each week on Tuesdays and Thursdays for outdoor nature fun in the sanctuary's back yard!
See all news for this region
South of Boston